Does going to an RV Show overwhelm you? 
RV Shows can be exciting as your imagination runs wild down a winding road of possibilities and future memories. But, at the same time, attending a huge RV show reminds me of an exhausting day through a Disney theme park, where you try to take in as much as you can, only to leave feeling as if you missed so much.  
Do you think they do that by design? Hmm. Something to look into for later, though.  
Ultimately I don't think any RV show producer is trying to pull one over on anyone; there is just so much to show and so much ground to cover it can be overwhelming. But, without a good plan, you will surely leave the RV Show thoroughly exhausted and partially confused. 
Whether you're a seasoned traveler or just starting to get interested in RVs, attending an RV show is the perfect way to get informed about the many options. From the best models and manufacturers, new features and gadgets, to customization tips, an RV show will put all these interest points right in front of you to explore. Plus, it is actually really fun!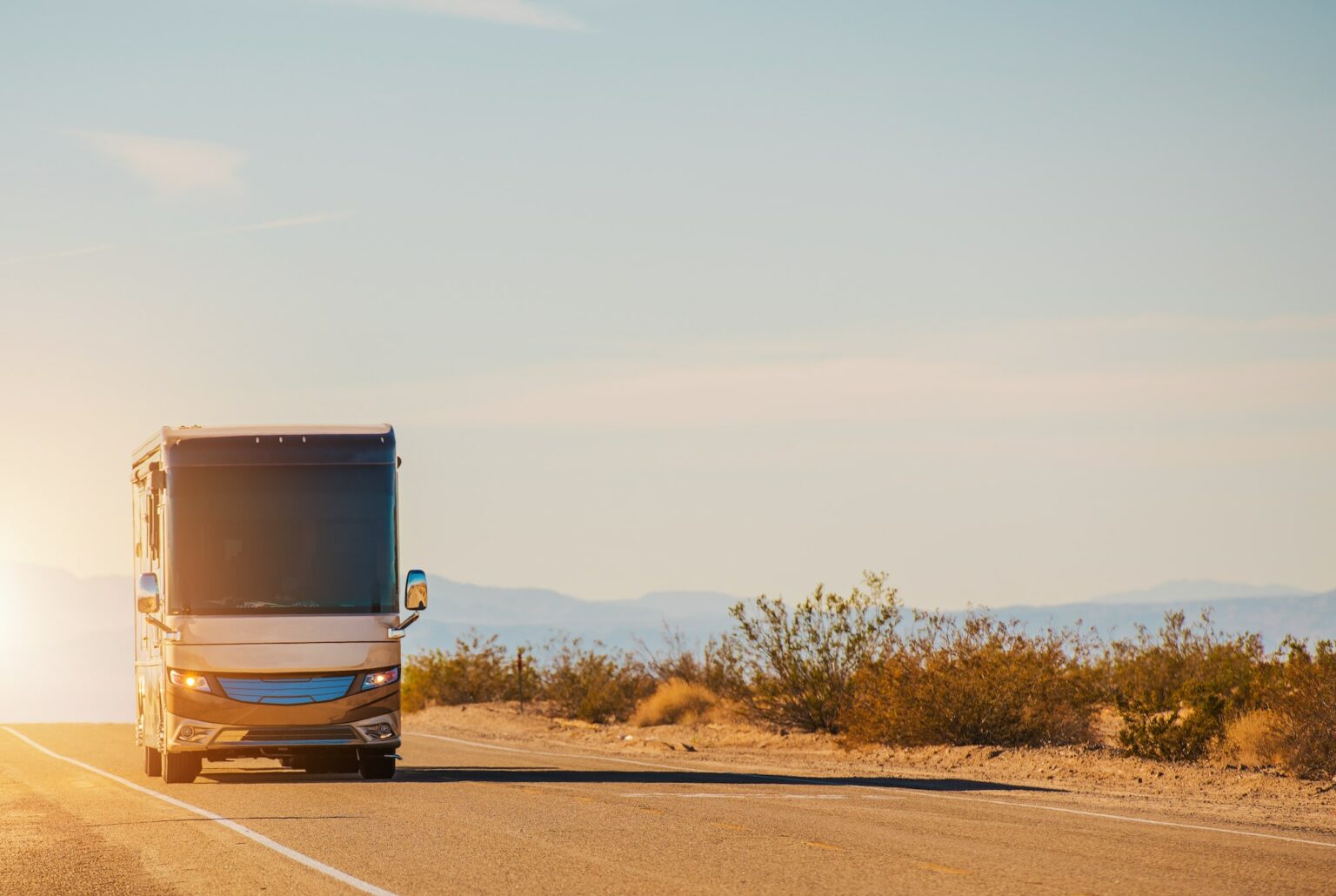 The first thing about RV show dealer deals is that they usually are at a pretty good discounted price. Often they are at the lowest price they will be for a new model, as many dealers will sell you models they haven't even received on their lots yet, and for them, it's the best kind of money they can make. Leftover models aren't usually at the shows, but those end up being the best deals you can get. The demo/show model is often discounted significantly because it will have gone through the foot traffic of all the interested show attendees, and it is harder to sell as pristine new.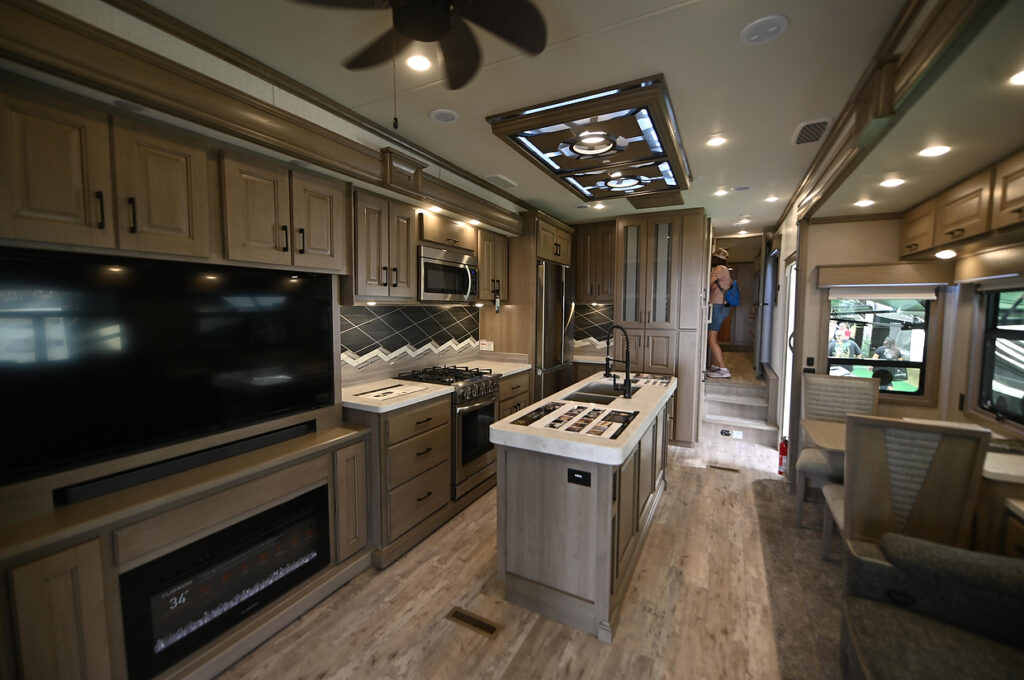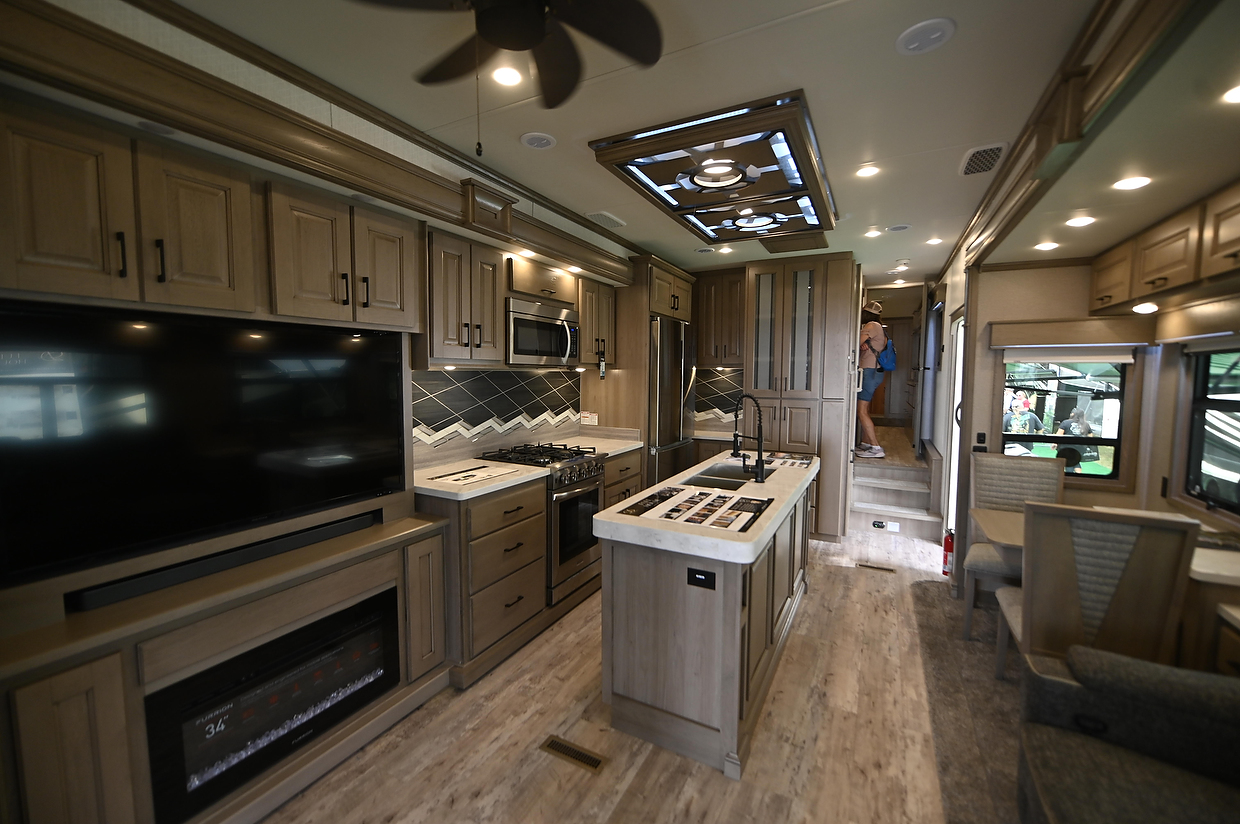 If you are shopping for a new getaway vehicle or towable, here are our thoughts to consider when attending an RV show.
Set a budget – (And stick to it). Before you even step into an RV show, ensure you know how much you can spend. Knowing your total budget will help you narrow down the type, size, and style of RV within your price range.  
Research what you think you want ahead of time! – Before you go to the show, take some time to research RVs and figure out what features are important to you. RV's are all about features. TVs, Beds, Speakers, Bathrooms, etc. That way, when you get there, you can focus on checking out these details in person and see if it is as important as you thought. Our RV came with eight built-in speakers and a sound system that sounded like garbage. My portable BlueTooth speaker sounds significantly better than what was included in the RV, so we took out that low-grade radio and used our Alexa as needed. We covered up two speaker holes with larger lights, but dead speakers still remain in the ceiling. 
Ask questions – Don't be afraid of asking questions! Manufacturers and dealers often have their representatives available to answer any questions! The questions from a new RVer will be pretty different than a seasoned traveler, but they should all be able to answer anything you have to ask for. 
Spend at least two days at a show. You can first do a high-level look-through of all the RVs on the first day and compile a list of which ones you want to go back to see. The next day you can go to your favorites with a fresh set of eyes and ask the dealers the more essential questions. You don't want to make a rushed decision and regret it later. NOTHING at the is a once-in-a-lifetime deal.  
Make a plan for viewing the models you want to see. Download the map of the manufacturers/dealers and take note of their product lines. Then looking at specific manufacturers that you are interested in, make a 'route' around the park to first blast through all the 'must' see RVs without too much wandering. Then spend the rest of the day taking in new ideas, inspiration, and models. 
Take pictures and videos of your favorite RVs. You want to ensure you capture the exact model number or spec sheet to research when you get home. There is always a manufacturer sticker on the outside of show vehicles with the model number, features, and price of each RV. Take a photo of that. You will appreciate the refresher later.
Dress comfortably! – Yes. This is the most crucial part. You'll be spending a lot of time on your feet when walking around an RV show, so make sure you wear comfortable shoes and clothes. You often go outside and inside, so you want to ensure you are dressed correctly for the weather.
Bring plenty of snacks and water! – RV shows can become exhausting, and you might feel hungry or thirsty. The big ones are set up like fairs with food carts and funnel cakes, but that won't keep your mind sharp and focused on the task. Ensure you bring snacks and drinks, so you don't have to leave the show in search of sustenance!
Bring a small tape measure. Many times, we wanted to know the exact measurements of a space or item at the show. For example, if you want to know if your stand-up smoker grill will fit in the storage basement, having the exact measurements of the toilet or the space it's going into will be very handy.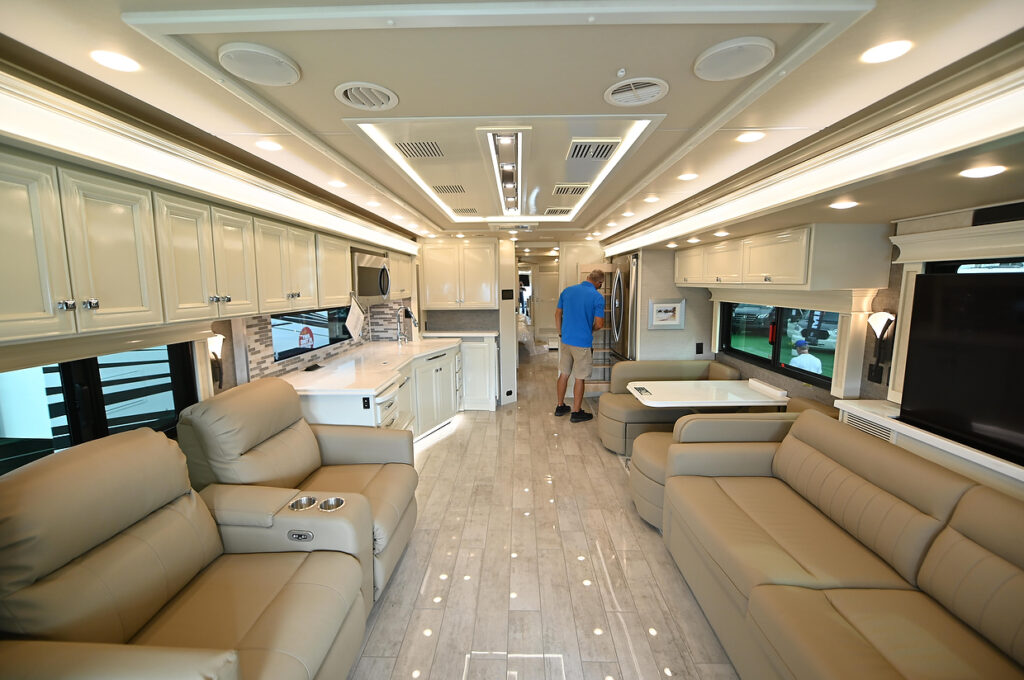 We have consistently said that we Love our layout and the remodels we have done to our RV; no other RV has gotten us to sway away from it. The shows are still fantastic for us as we get to see new technology, innovation, and styles. With that information, we take it back to our highly modified fifth wheel and plan new upgrades and features. Some years have more eye-opening options, and others are lackluster. Either way, it's a fun time for anyone in the RV community.