We are finally getting to see how our episode turned out for the TV show GoingRV on the Great American Country network.  The premiere episode airs June 29th at 9PM on the GAC network.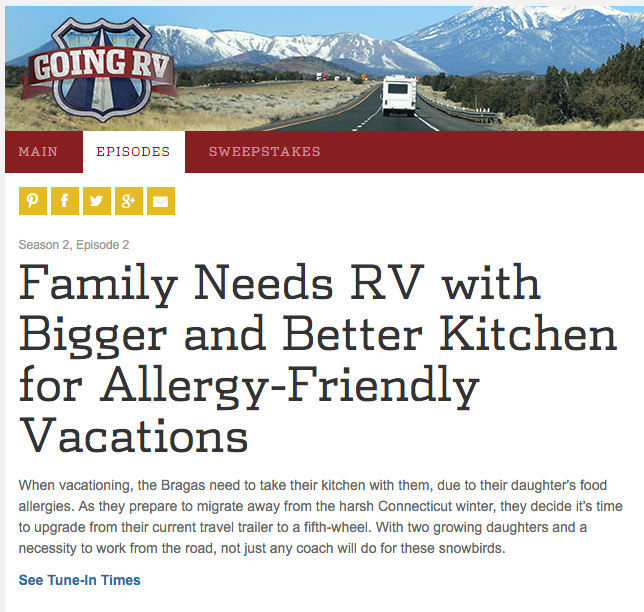 Here is some of the back story to the episode's filming and how it all came to be.
When we had just purchased our brand new Sunset Trail travel trailer back in 2014, I was learning tips from some RV forums and found a casting call post for a reality tv series called GoingRV.  I submitted our information to the show, but quickly got a reply that the season had been filled with talent already.  No biggie, it was just a chance.  Then back in September of 2015 I received an email from the casting team at RIVR Media saying they were filming a season two of the series and wondered if we would still be interested in applying.
It was still great timing because they were looking for a family who had recently purchased or are purchasing a new RV.  We had recently upgraded our 8 month old travel trailer to our new huge fifth wheel and the timing couldn't have been better.  They asked us to submit some family photos of our camping trips, and of our family in general.  (Here is where I kinda chuckled because… BOY do I have photos for them!)    The next morning I got an email saying… UM.. who are you people??? These photos are ridiculous and your girls are gorgeous.   Let's Skype.   Fast forward 3 days later and we were doing our online casting call with the producer.  Three days after that, we set up our filming schedule.
Although it was approaching winter, and our cross-country trip was starting in a few months; we opted to just film at and near the RV dealership we purchased ours at. (Pete's RV in Burlington VT)   The filming schedule of the crew and our travel schedule was going to be hard to line up, so we picked the beginning of Nov, in Shelbourne, VT as a central location.    
The premise of the TV show is a filming of us shopping for and deciding upon our ideal RV.  Our story specifically focuses on the needs we have for a larger kitchen and cooking space.   If you've seen the TV series House Hunters, it is similar to that but with RV's.   We hit the road towards Pete's RV dealership in Burlington VT where the shopping part was to be filmed.
We decided, since filming was to begin at 7:30 in the morning the next day; we were going set up temporary camp in the dealership's parking lot.   The great people at Pete's RV threw us a power supply line and we dry camped in lot.  It absolutely made the early start time more attainable.   
The next morning only Jen and I had to be camera ready for filming, but the girls insisted on getting up ready and early too.   Shayla decided it was her time to tie her shoe on her own.  Great job sweetie!    
Day one of filming took right off bright and early.  Our amazing friend Tawnia took time out of her schedule to drive up our car separately to spend day one with girls. Since the first day was really just Jen and I filming, it was a blessing to have someone we trust watch over them during that time.   The crew was SO patient and professional with us, I couldn't have thanked them enough.  They eased all of our nerves and helped us potentially act as calm as possible.   I think Jen was a natural, and am looking forward to the episode to see her knock it out of the park. (no pressure)
That day we entered into the 3 RV's that we were interested in buying.  We toured each one with our Salesman Nick, picking out all the pro's and con's of each.  Learning new features each had, theorizing challenges and benefits with each, and talking space, decor and budget.
After a LONG 14 hours of filming we headed to our reserved camp spot about 30 minutes away from the dealership.   We got the best spot they had at Shelbourne Campground and it was perfect.   We had the next day off to recover, while the crew filmed more staging/beauty photos of the RV's  and the dealership.  We took this day to go for a hike and enjoy some of Vermont's natural autumn beauty.
Leighton found a heart-shaped hole in a rock.  She took the picture with her camera as we were all doing a photo scavenger hunt during our hike.  
We found a great little hike along the river at The Mills at Shelburne Falls.   We found the small trail via the AllTrails app on our phone.   It is kind of hard to find otherwise.  Nothing was really pulling up in the area via Google searches.  
Day 3 brought the crew back to us for more of the adventurous shooting.  One of the sequences of our filming on day 3 was that of us doing a family self-portrait in the woods.  Something we often do on our trips so they wanted to film us doing that.  So I set up the Nikon D4 on Interval Timer along with the Profoto B1 and Umbrella and we rocked the Plaid for our camera and theirs.

The rest of that day's filming was interviews, deliberation, and camping activities.  We got to ride our bikes, go for another hike etc.  
I'm pretty sure the girls might have stolen the show during their interview, but we will see if it turned out good enough to include in the final cut.  
After our "back story" sequence, filming came to our interior tour of the camper, along with some of the modifications I've made since we got it.  One of the main themes to our episode is the cooking ability of the RV, and our foodie-allergy-free-life.  SO the last sequence of the day was a combined one of us cooking our signature BBQ ribs and cutting and cooking hand-made french fries.   Of course we cooked a whole bunch of racks and enough to share with the whole crew afterwards.   I think they loved that part the best.  Adam may have gotten some BBQ sauce on his face it appears.  
As a gift to the crew, Leighton drew a portrait of the whole team, and thanked them for making our episode so much fun.   
As a reward to the girls for being such great sports on day 1, we took them to the Vermont Teddy Bear Company for a factory tour and custom teddy bear.  
 To finalize the trip on our last night there, we staged our annual Christmas Card Shoot.   We began by decorating the trees as well as the RV, with dozens of strings of lights and garland.   We brought so much we could decorate the whole campground.  From there we dressed back up in our plaids and the rest is history.