Our first boondocking experience was anything but terrifying, now that we get to look back at it and smile. In fact, it was a pleasant surprise despite our biggest fears, but we had to claw our way to that feeling of comfort, one cactus at a time.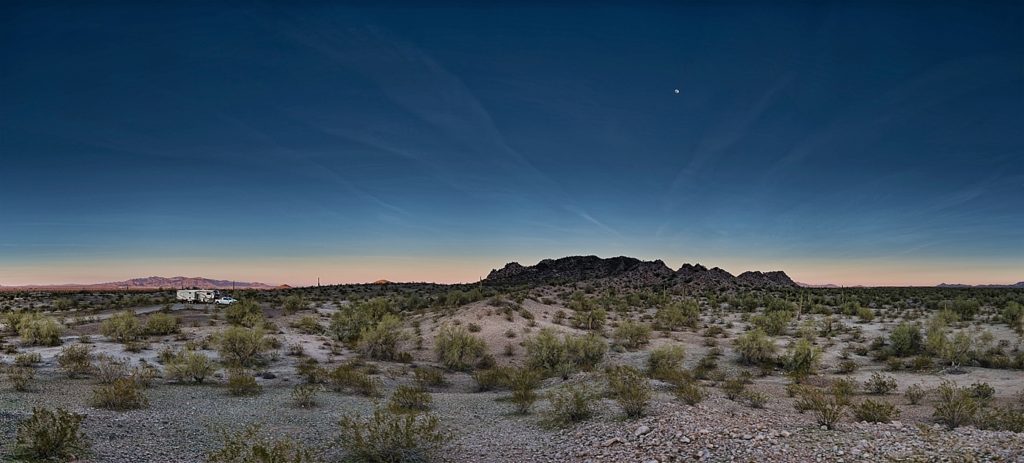 When we set out to explore the US we knew the adventures would include boondocking. (Boondocking, Dry Camping, Dispersed Camping all mean camping under your own power and supplies. There are no hookups to sewer, fresh water or electric) Boondocking held a certain amount of anxiety and uncertainty to it, but we knew we needed to figure it out to successfully navigate our roadmap.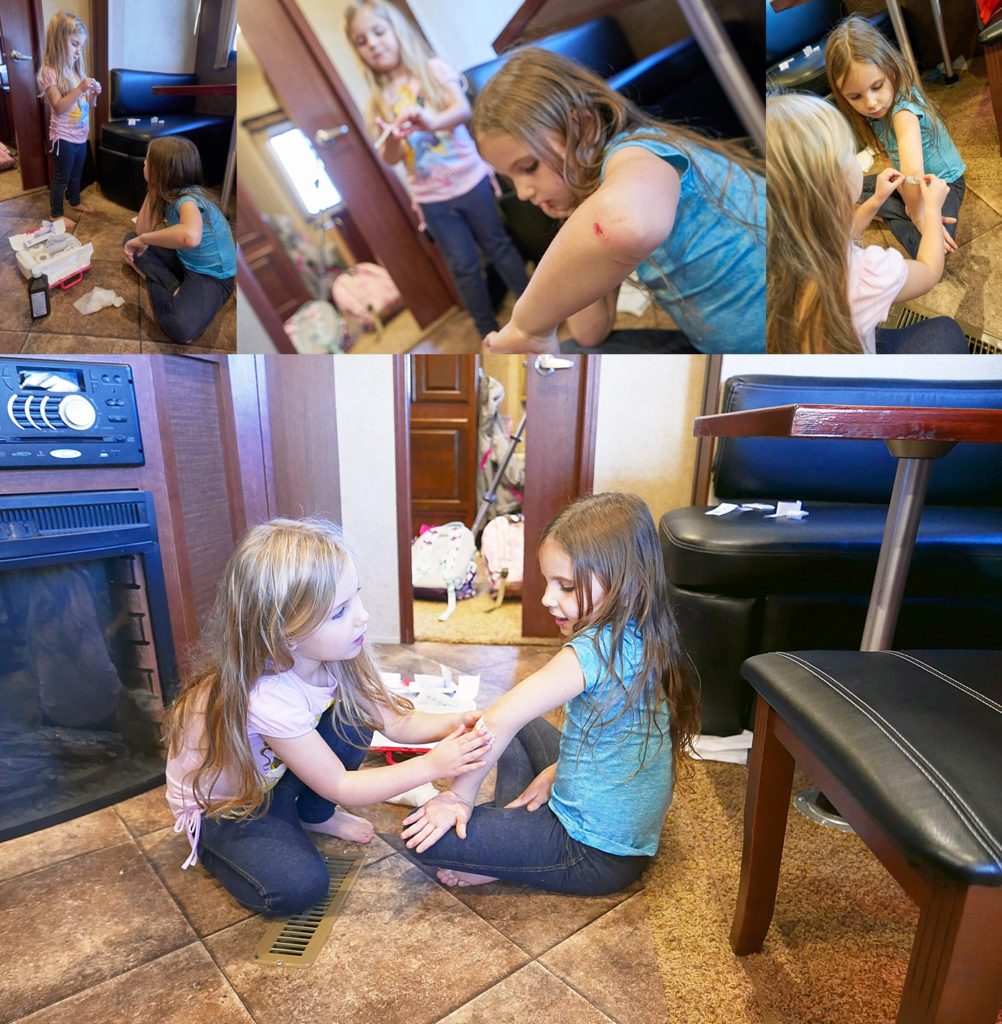 What was there to be afraid of? I don't know. THAT is the problem, the unknown. Getting thrown out of the spot in the middle of the night by the police because we were mistaken that we could stay there? Wild animals? Being all alone in the woods? No connectivity? Strange people of the "bush"? and so much more… In all actuality, our single greatest fear was being away from civilization and it's hospitals, in case there was an allergic reaction we had to tend to. We talked at length about this in our early planning stages and ultimately realized that we would be safer than we initially thought since there were NO food allergens anywhere within our RV and the likelihood of Shayla ingesting an allergen was less than anywhere else we could be.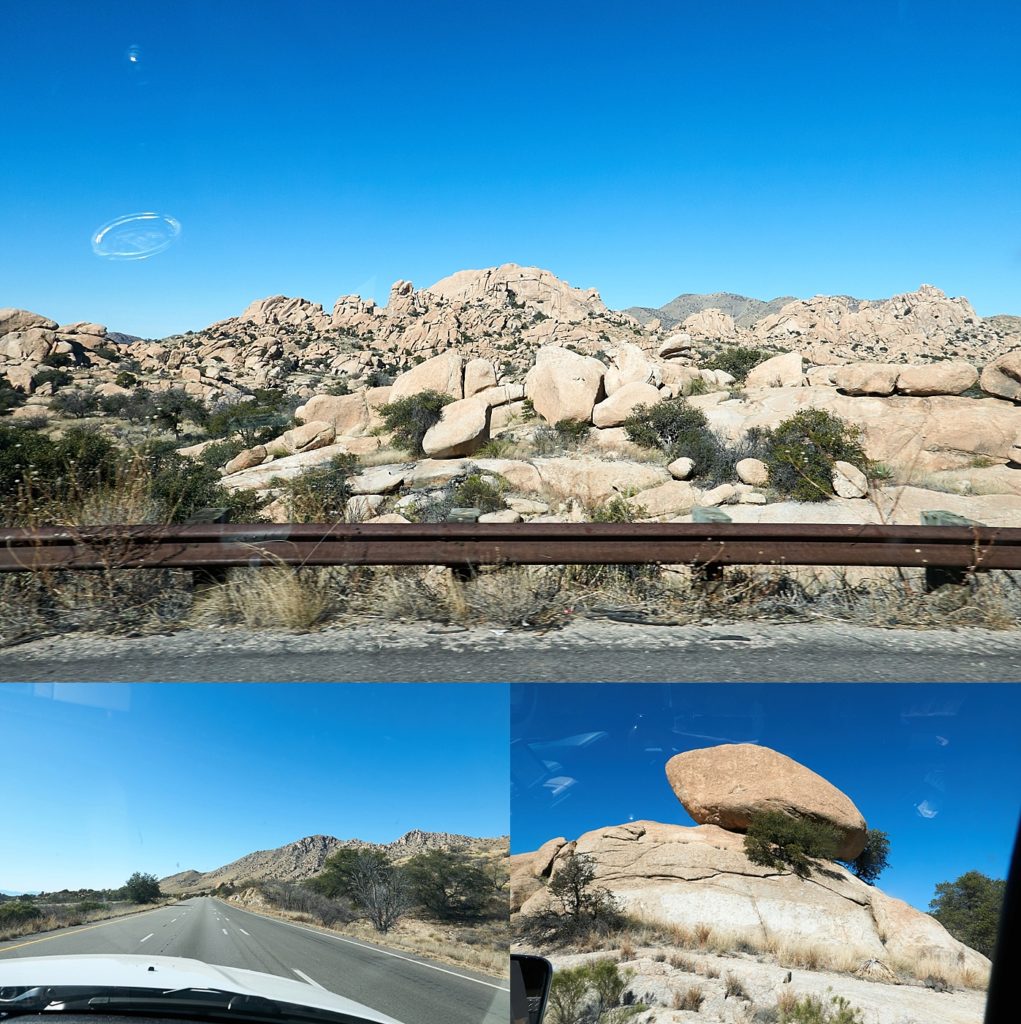 We received our "GED" in boondocking thanks to TONS of YouTube binging and following some of our initial favorite YouTube channels. We learned about solar options and composting toilets from the legendary Wynns (https://www.gonewiththewynns.com). We grew more minimalistic by learning the tricks of van life from Chris & G (www.chrisandgtravels.com). Staying connected on the road was important and we got a ton of information about mobile technology and working from the road from Julie and Marc (www.rvlove.com). We wanted to see what homeschooling life on the road would be like and the authority on that was clearly The Newschool Nomads at the time (www.newschoolnomads.com). All these pioneers brought honest commentary and didn't shy away from the pain points of RV living. (While we are at mentioning our starter educators on YouTube, we also followed Eric and Danielle of www.Shorelooksnice.com and Pippi Peterson https://www.pippenings.com/)
Amazingly, we got to meet The Wynns, Shorelooksnice, and RVLove out on the road. So random in this huge country to see them somehow.

Armed with as much education as we could jam into our year of preparation, we arrived at our first open space free camping spot. We found Buckeye Hills State Park thanks to some web research, camping apps (that's going to be another blog post), and a little luck.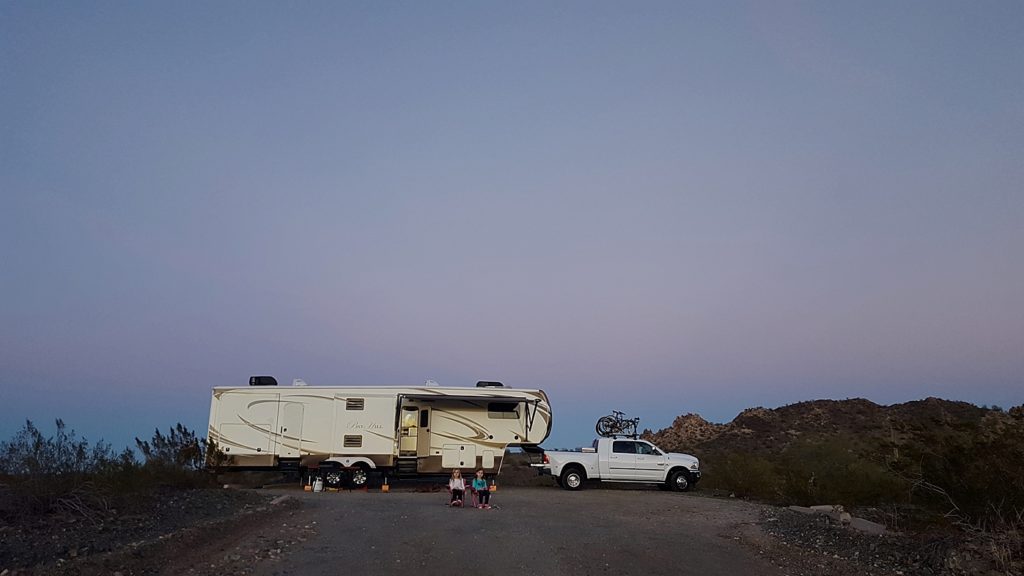 Perhaps the most terrifying thing about heading into an open space park is the unknown roads. Specifically, the anxiety of towing a 42ft Trailer down a single lane, twisting, turning, bumpy dirt road, without knowing if you could actually turn around if needed or if you met someone exiting the dirt road at the same time, causing a staredown standoff.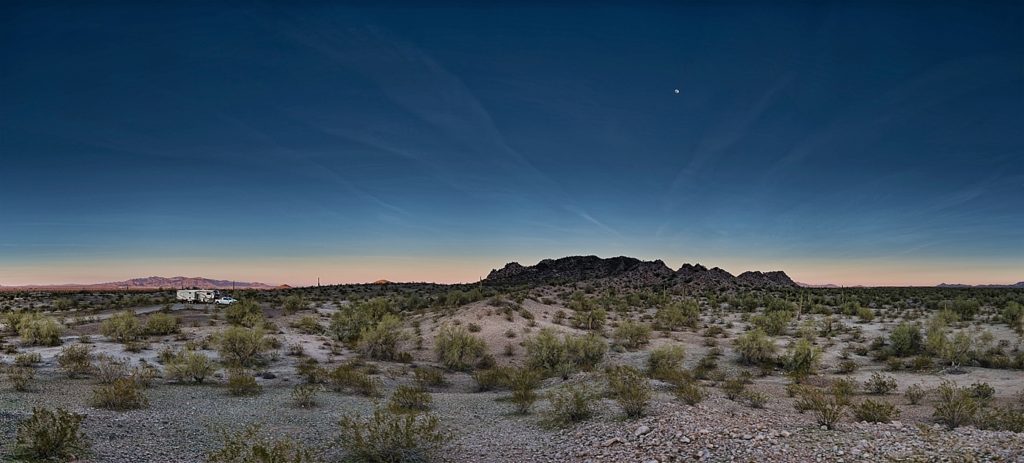 When we first pulled into Buckeye we bottomed our rear bumper out and thought… oh man, here we go.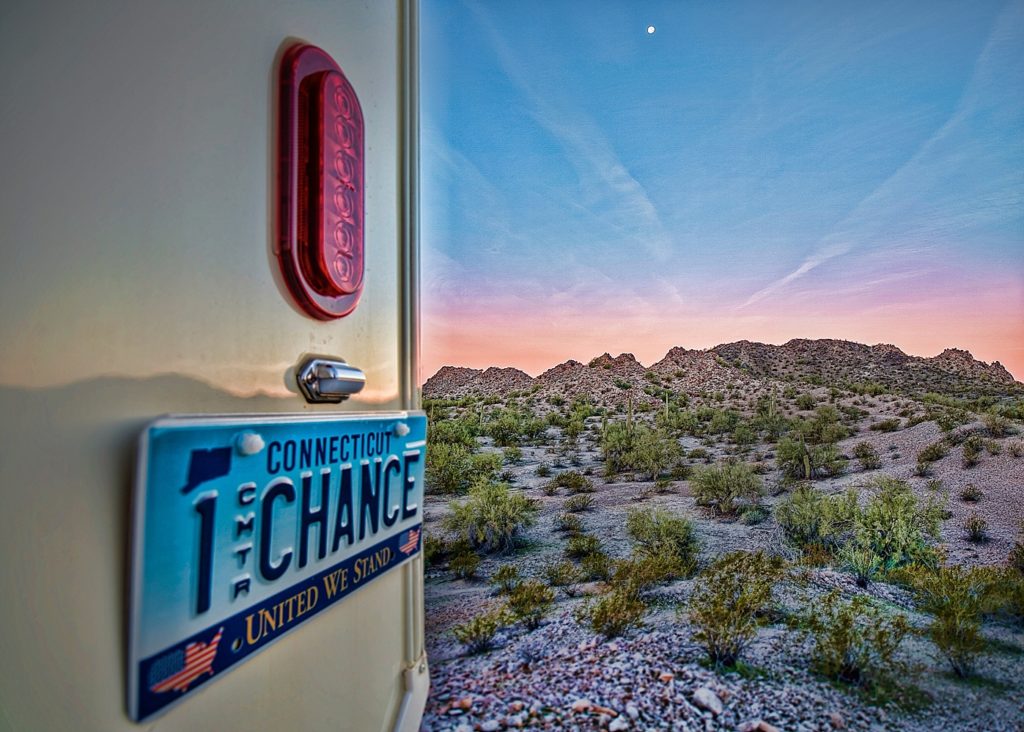 Buckeye Hills State Park in Arizona is a small park right off 10, just outside of Phoenix.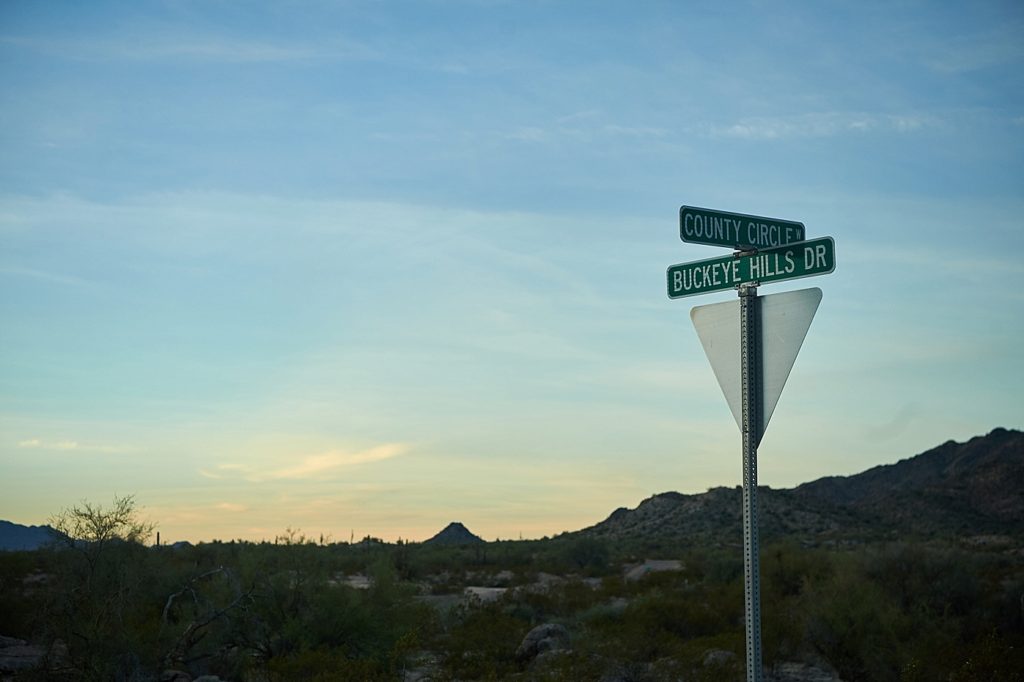 We filled up our water tank to the top with 75 gallons of fresh water (probably why we bottomed out) and made sure all our other tanks were completely empty. Coming off a few day stay at a full hookup site, our batteries were charged up; and the new Honda Generators were begging to be used for the first time.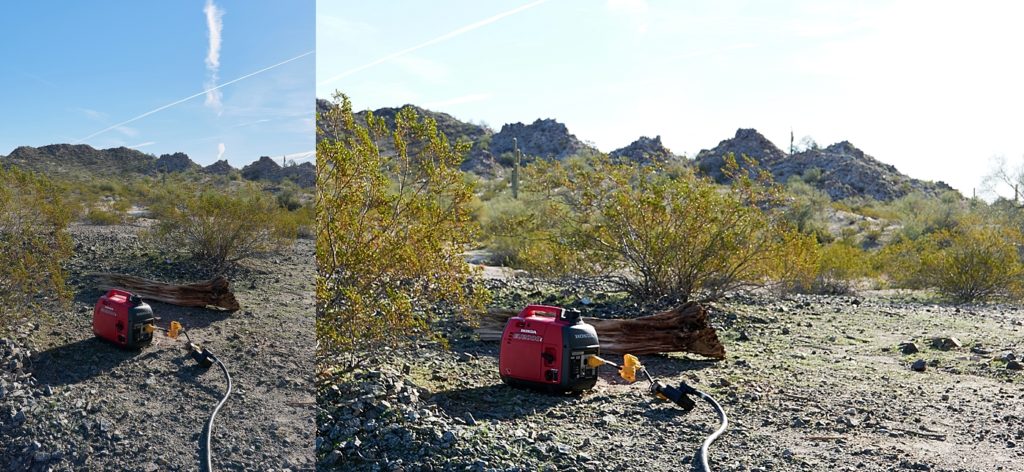 We do use a generator to boondock btw. We have 2 Honda EU2000i 2000W gennies.
When we boondock for more than one night, it requires a lot of meal planning and prep. We try to prep as much food as possible ahead of time while under power and water. With Shaylas numerous allergies, we don't have the luxury of ordering takeout, or picking up a heat and serve meal or packaged meal.


Our extensive meal prep and meal options also revolve around doing less dishes and use less water clean up with. While we are book docking we are often using paper plates and plastic silverware so that there aren't as many dishes to clean. We also use the grill for as many meals as we can! Look for our GoRving blog post coming up soon on https://www.gorving.com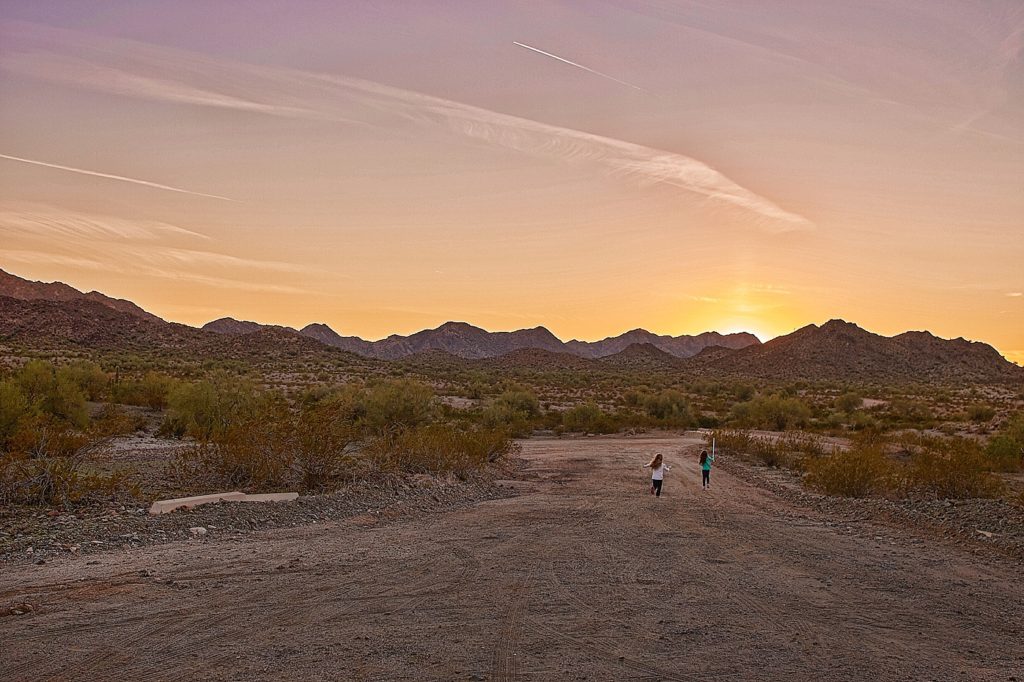 Jen writes:
"I remember, Jerome was so excited to be in the desert, alone; without the city lights everywhere. He was ready to capture the brilliant stars and use his amazing night photography skills. Coming from New England it is really hard to get absolute darkness, and amazing night photography always seems to be close to ideal, but never quite possible."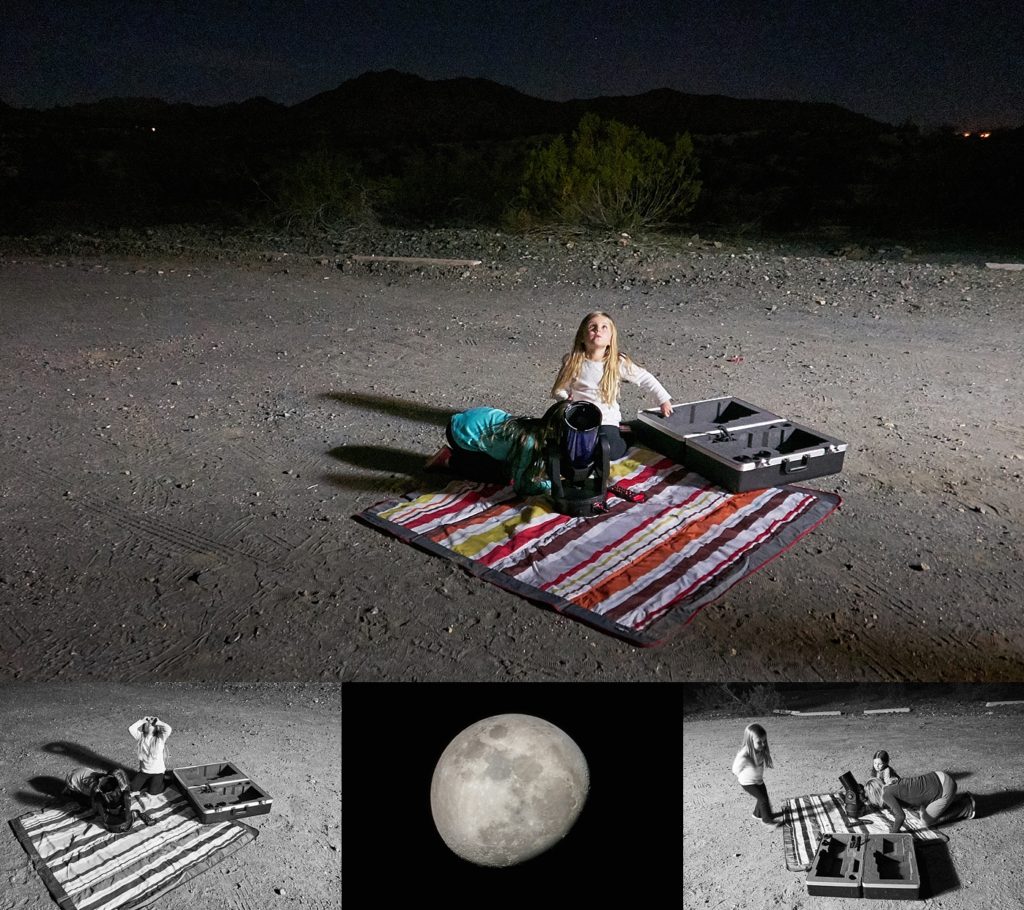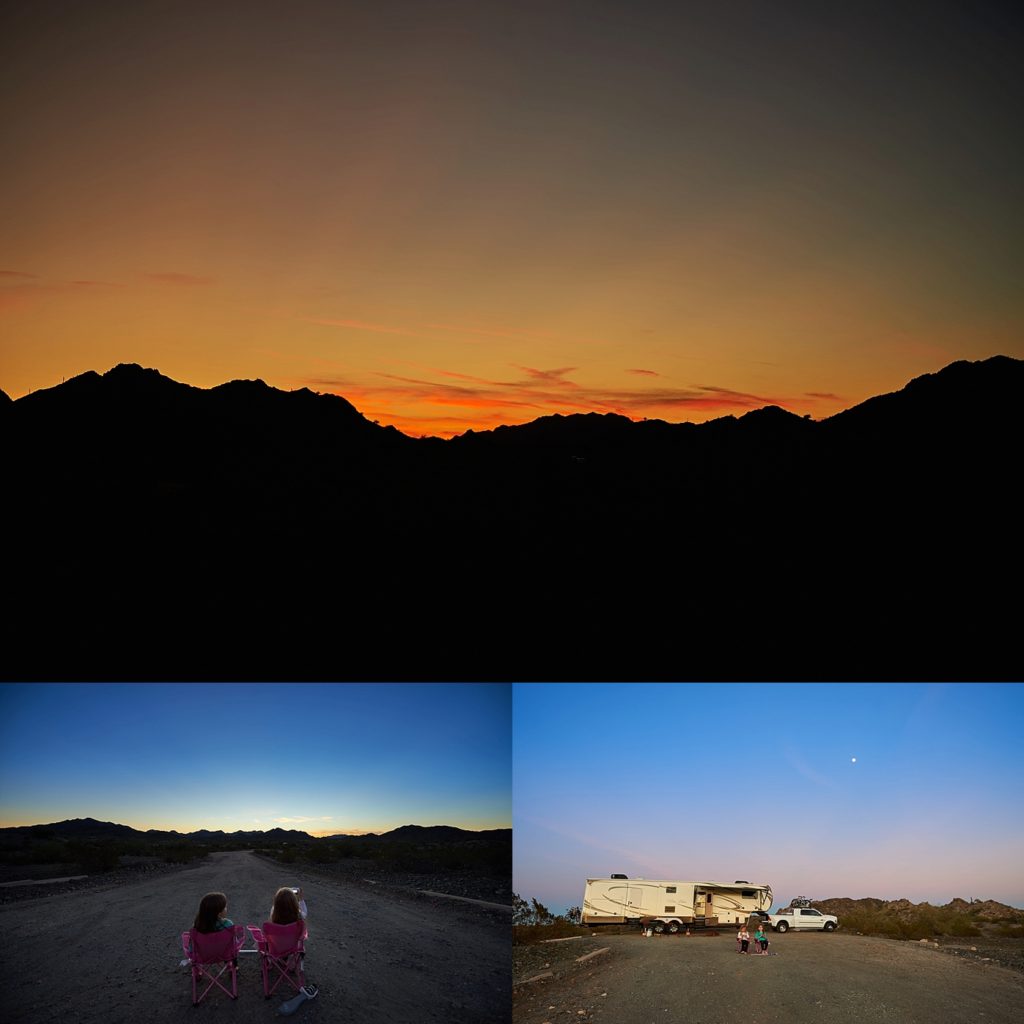 There are big cities and street lights everywhere, and the light leak into the atmosphere always obscures the brightness.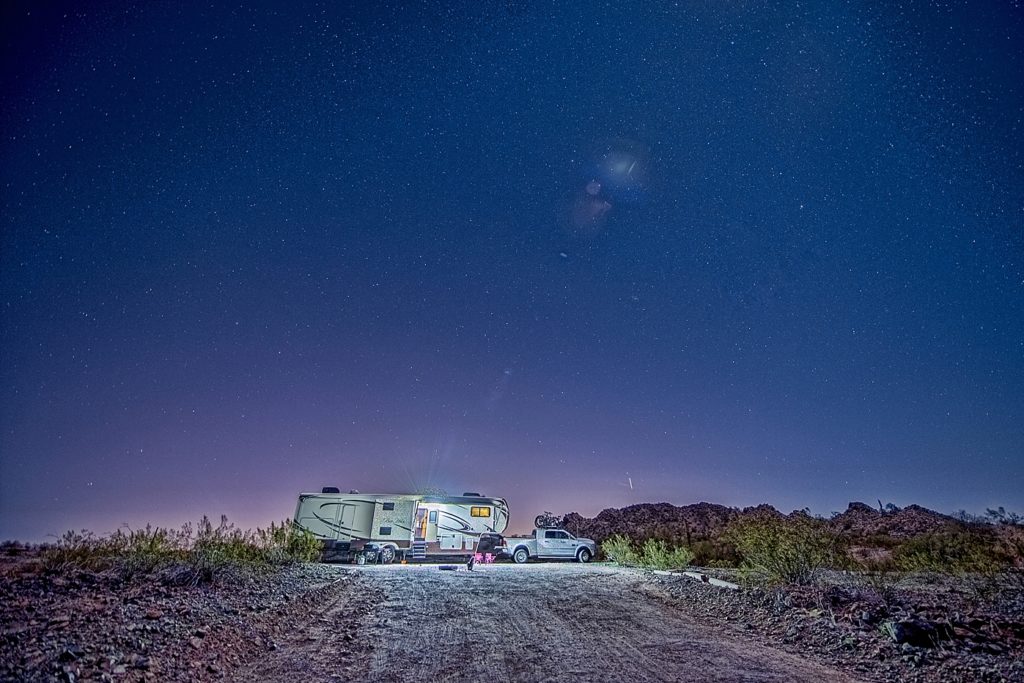 Jen continues,
"The first night was going to be just perfect. It was a super clear night. We put the girls to bed, he got out the camera and the tripod (as well as the telescope) and headed outside. He went outside and waltzed back in within 30 seconds wearing a face of pure defeat. Apparently, there was a full moon that night and it was so bright, we could see our shadows cast on the desert landscape beneath us. A full moon in the desert, with no artificial light, made the moon appear so much brighter and essentially gave the same effect as light leak from city lights, and the stars were so much less visible than we all hoped for."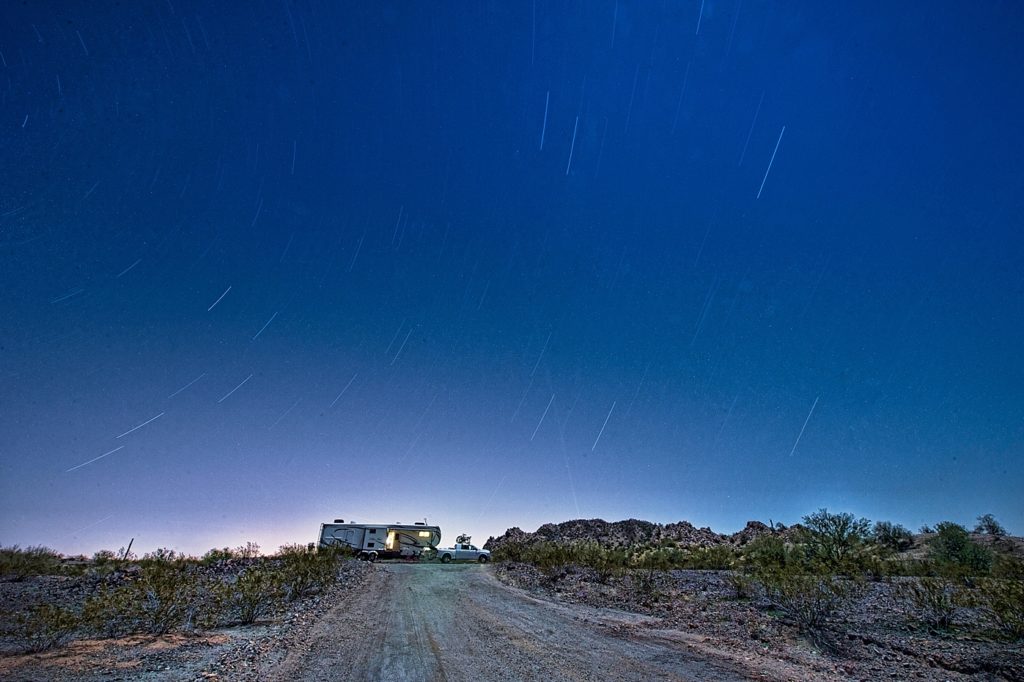 "I think he got some amazing shots though. What do you think?"
We took the 4 days we had blocked off as an RV "staycation". We didn't go anywhere for that time and took advantage of a little hiking and exploring the landscape (dotted with huge saguaro cacti). We had never seen these amazing cactus in real life and it was quite amazing to see them for the first time.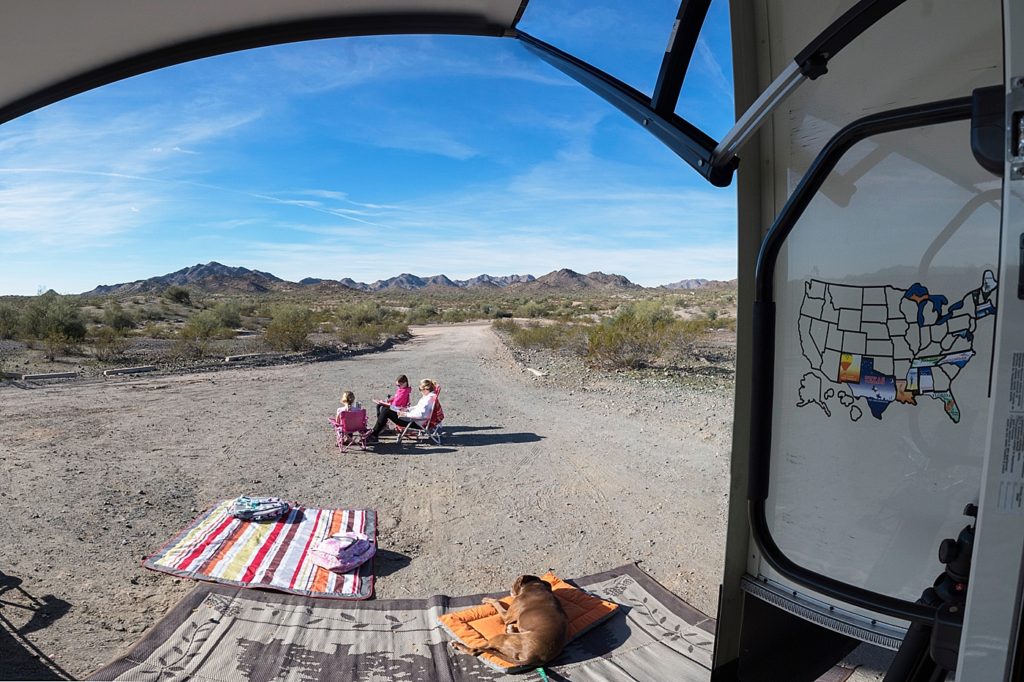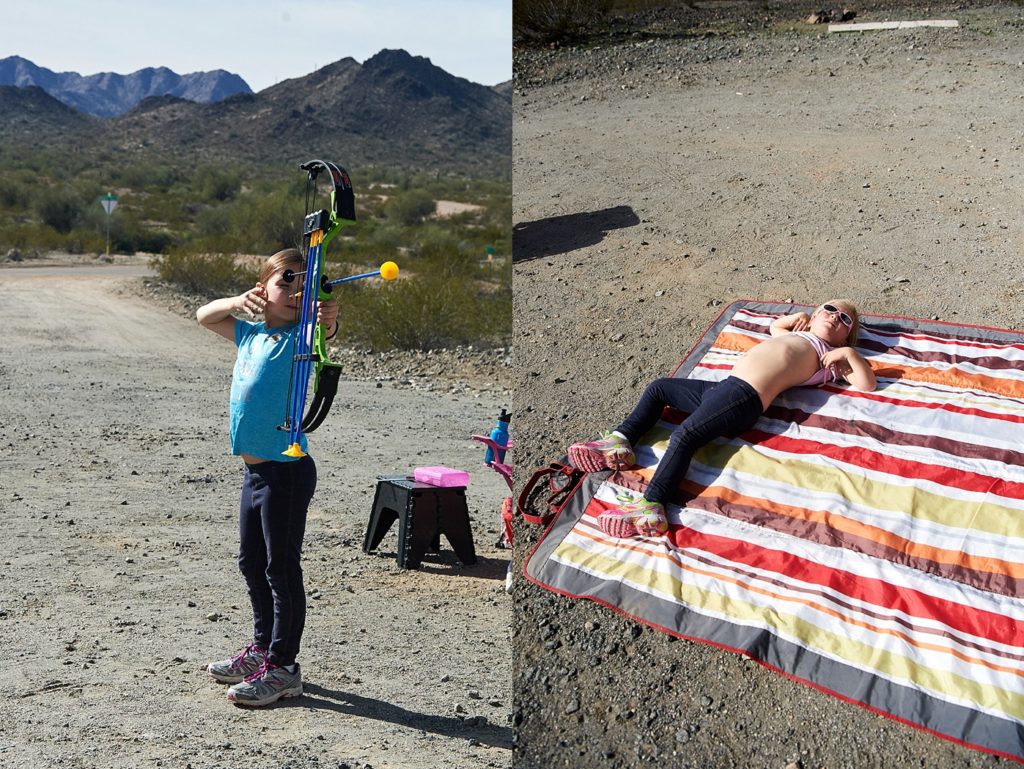 Shayla said… "I'm going to work on my tan"