Let's face it, RV stuff breaks, whether it is an accessory you buy for camping or the products within the RV itself. They will break at some point. So we've decided to make a different kind of 'best of' list of must-haves RVing accessories. This list is of the 15 things that have lasted us through the past eight years of RV Travel without needing to be replaced. They are the 'most durable and toughest products we carry around with us.  We aren't necessarily saying they are our favorite products in the RV but they are the most long-lasting, and we can comfortably recommend them to anyone.  Yes those are Amazon affiliate links so click often if you are interested 😉
Oxygenics Shower Head
Our first RV purchase back in 2013 was this Oxygenics Showerhead. It is super efficient and gives the perception of boosted pressure, all while using less water. The actual design of the inside is so simple that even hard water scenarios won't clog it up, and this head is going strong after about eight years.
Magma Products Pot and Pan Set
Our pot and pan set is a staple in our kitchen that we share with everyone who asks. We have had this Magma set for over eight years, and they still perform and look new. If you don't know the Magma brand, they have been the go-to for superior quality marine stainless steel grills and cooking. They also make cutting boards and filet station setups for boats. These pans nest perfectly for tight storage and are super durable. The only thing we have had go wrong was a little melted handle, but the newer ones don't even have plastic near the connection point, so they won't be doing that for you. We liked the pans so much when we built our latest cabinet system around them. We made a specific drawer to fit them perfectly.
RV Snap Pad Stabilizer Pads
An excellent RV accessory is something you set up/buy once and never worry about again. That is the case with our RV Snap Pads. We put these on year 1, and they have never needed to be tended to and never failed us. We love the rubber pads' extra footprint and weight distribution effects, which have been a blessing. We add leveling blocks to the bottom, but not because the pads don't work independently. We believe that the least amount of jacks exposed, the more solid the footprint.
Clearsource RV Water Filter
Clean water is must have that we all crave. I know it was one of the first things we put in, but it might not have been year 1; either way, we installed two ClearSource water filter systems: one onboard and one outboard for a total of four filters. When they came out, they only had the double canister systems, but now they offer a variety, including up to three. So we didn't need to upgrade, but we just put in a new triple canister onboard while rocking our original double outside. These are sturdy steel framed canister holders with stainless steel fittings, and we love the water we get out of these.
Rhino Flex Hoses
There are so many hoses out there it seems like an accessory that doesn't matter much, but I would beg to differ. I've seen some hoses blow out their swivel connections and others that crack and dry rot. We initially bought one hose and a couple of swivel connectors and have since bought four more so that we have all the hose necessary, no matter the landscape layout of the RV park we are at. We have had this main one since the beginning. We like them so much because they compress and stay compact for storage. I don't think any other hose does this.
Lynx Leveling Blocks
In my opinion, these Lynx brand orange leveling blocks are the most durable on the market. First of all, they have a very open pattern that allows easy dirt removal after being stationary for several days. We've had our first set for over eight years and our second set for probably seven. These have not been deformed or cracked in that time. They have lost a little of their bright orange color but compared to the yellow ones; they are pristine. These yellow ones constantly get stuck together; they crack when compressed over something unstable like gravel, are ALWAYS full of water, and need to be emptied before stacking. Leveling blocks are essential because you can use them as a ramp under your tires to get you out of a muddy scenario and to help level your rig.
Honda EU2200i Generators
We bought our first Honda EU2000 when we decided to take our first cross-country trip seven years ago. It started every time, usually with just one pull. I've had these running in the rain, in the cold, for over 24 hours at a time, and in emergency roadside use. I loved it so much that we bought a second one about four years ago and can run the two together to get an excellent 4000-watt 30 amp connection to our entire RV. They are the quietest on the market and the most reliable. The unique point of difference about Honda is their fuel delivery system is mechanical, not gravity fed. That means it sucks the gas into the engine so you can run an auxiliary fuel tank and pump the gas into itself for operation.
Splendide Washer Dryer Combo Unit
Our first time traveling across the US, we were doing the laundry mat shuffle with moderate success. It wasn't until a couple of disgusting scenarios that we decided we needed our washing machine in the RV. We realized that having a washer kept our piles of laundry down and simplified a lot. The unit we bought is a combo washer and dryer model 2100XC, and we thought it would break quickly with that many moving parts. It's not to say we didn't do some repairs along the way, but this thing has performed very well with regular maintenance for our whole time. It runs six days a week, and that's impressive.
B&W Companion Trailer Hitch and Turnover Ball
When we bought our fifth wheel, we opted to pair it with another brand's auto slider hitch. It was pretty expensive, so we assumed it was a significant hitch. This 'other' brand had many moving parts and always seemed to be a little sloppy. Lots of play when climbing, stopping, turning, etc. We didn't know any better because it was our first fifth wheel. Then the following year (about seven years ago), we got the B&W Companion Hitch, and we were blown away by how tightly unified the RV felt to the truck. There was zero play in the hitch, and the rubber bushings made a much softer feel to the back. So here we are, seven years and about 100,000 towing miles later, and the hitch still doesn't have any play and performs like new. I'm guessing that anyone who tells you their hitch is better doesn't have a B&W to compare it to.
RVLock Entry Handles
I'm sure you are away of keypad entry locks on RVs. RVLock is the original keyless entry system; we were early adopters of their lock. We had their version 3 installed about six years ago, and it has always performed flawlessly. We did happen to replace the keypad skin, but their new version 4 eliminated that problem from occurring. There are several knockoff brands on Amazon these days for less money, and I think they are all modeling after the old version 3. We love the system so much that we got a new version 4 for the other door and installed RVlocks on our compartment doors. Now with one touch of a button, all the RVlock products lock simultaneously and give us the piece of mind that we are all secured.
The Original Ringer Cast Iron Scrubby
This isn't so much an RV accessory as an essential life accessory.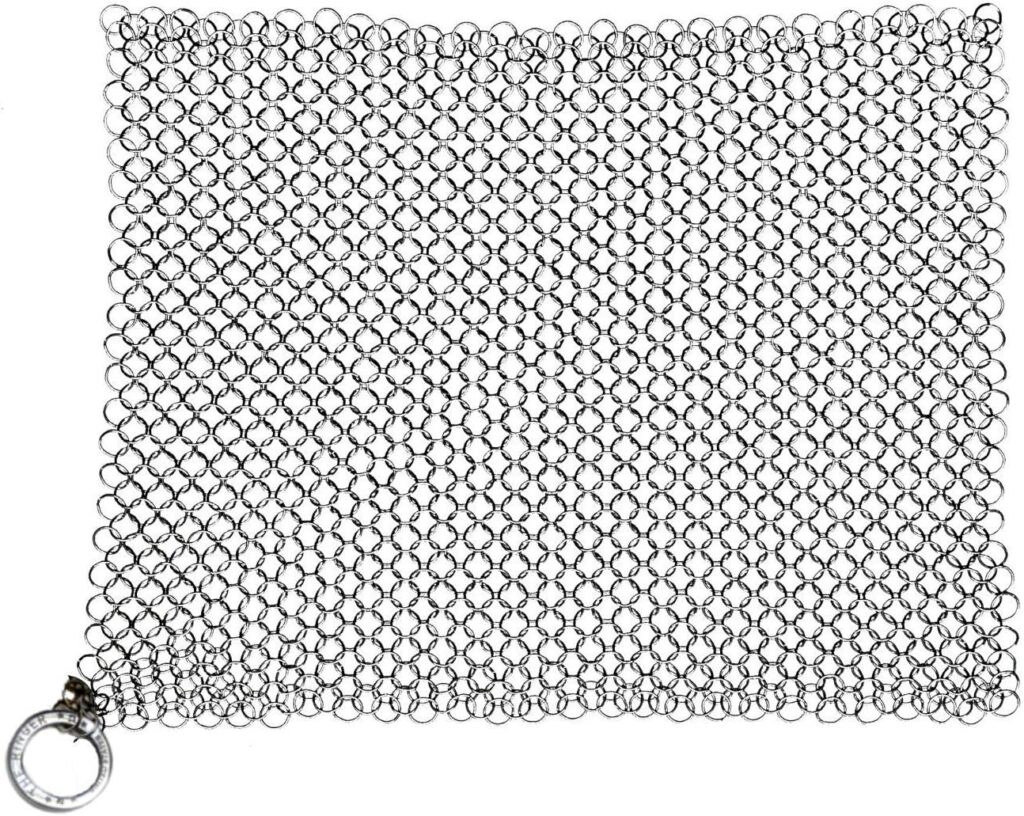 If you are like us and cook with stainless or cast iron only, this is the only cleaner you need. We've had this scrubby for almost ten years now. We loved it so much that we bought another one from Amazon and were disappointed because we didn't realize it was a knockoff and not the original Ringer brand. The knockoff looks similar enough, but they have slightly larger rings and are not made of quality stainless because ours rusted. 
The original we love so much is named the Ringer, which works flawlessly. It's ideal for scrubbing cast iron but is fantastic at taking off the big chunks of baked-on food without getting clogged in the rings. It always rinses clean no matter the mess it takes off.
Hotel Style Retractable Shower Clothesline
While staying at a hotel once, we noticed their shower clothesline and knew we wanted one for our RV shower. It's a great all-stainless steel solution for hanging wet swimsuits, raincoats, or just air-drying laundry. We liked it so much that we got a second one and can't imagine not having this extra space to dry on demand.
Camco Aluminum Side Table
I never thought this little side table would last as long as it has. It is in the elements daily and has been for about seven years. We have a plastic folding table that does the same thing, but the aluminum is twice as stable and folds about half as thin. It can probably hold much more weight than plastic and has nice sharp edges. I can't talk much about a table, but this is a keeper.
Maxx Aire Vent Covers
It needs to be a priority if you don't have a vent cover on your RV. We installed these two vent covers over seven years ago and can't imagine life without them. The best thing about them is to keep the vents open and running in the rain. So we can still circulate air out of the RV without the rain getting in. We opted for the white versions because we want as much light in the RV as possible. I think we can honestly say one of these vents has been open for like two years straight and with no fears of rain getting in the bathroom. There are two quick-release pins at the bottom that you can pop out and tilt the cover to allow for cleaning underneath as needed.
Non RV Related Recommendations
Zojirushi Horizontal Loaf bread maker
This is another non-RV-specific time, but this breadmaker has been used constantly for over 14 years. We use it at least once weekly to make the most fantastic sandwich bread and pizza dough on demand. When a pizza night opportunity exists, we pull this out, and in 2 hours, the fresh dough is ready to go. What is unique about this bread maker is that it makes horizontal loaves of bread that are more like what you would see in the stores. There are twin paddles in the bottom and a preheating process that lets you skip the step of warming up the water before adding it to the dry ingredients. We have ordered new paddles a couple of times over the years, and the coating started to come off a little, so we quickly replaced them.
Breville Barista Express Espresso Machine
We've had two of these machines for the past 16 years.  This current one has been going strong for over 9 years and we love it.  We make a couple iced Americanos every day and it grinds the beans fresh then brews them perfectly.  Everyone jokes about how excessive it looks in the RV, but we just simple reply with… Don't mess with our coffee.  lol 
Vitamix Pro 750 Heritage Series
An honorable mention in our series of things that don't suck, is our trusty Vitamix.  We've had this thing so long it's now called their Heritage blender lol.  This is a workhorse that is used every day in our house.  We have replaced the 64oz low profile container one time as the old one wore out a bit and got stained.  (And perhaps we've blended one too many spoons in it)