I love Hibachi! The noodles are my favorite. I could eat them every day. This recipe reminds me of hibachi noodles but much healthier for you! This is a quick go-to recipe for us. The best part is that you can change the vegetables if you don't like one. You could do beef or you could do no meat if you are looking for a vegan option. I prefer spaghetti for this recipe. I have tried different types of pasta and for some reason, it just doesn't taste the same.
Here is what you need (printable/pinnable recipe card at the bottom)
2 chicken breasts
1 medium zucchini cut into small pieces
3 carrots peeled and cut
1 small head of broccoli cut into small pieces
12 oz of rice pasta
4 tablespoons of vegan butter
3 tablespoons of brown sugar
3 tablespoons of soy sauce
salt
pepper
garlic powder
Steps
1. Bring water to a boil and cook pasta and drain when done
2. You can either grill chicken and cut into small pieces once it is cooked, or in a sauté pan cook chicken in olive oil. Cut the chicken into small pieces before sautéing. Season with salt and pepper and garlic powder.
3. Once chicken is cooked remove from pan and set aside
4. Add more olive oil and sauté vegetables, season with salt, pepper and garlic powder
5. In a small saute pan add butter and brown sugar, stir until sugar dissolves and add soy sauce. Stir for another 30 sec then turn off heat and set aside.
6. Once veggies are soft add the chicken back in
7. Stir in the pasta and then add the sauce
8. ENJOY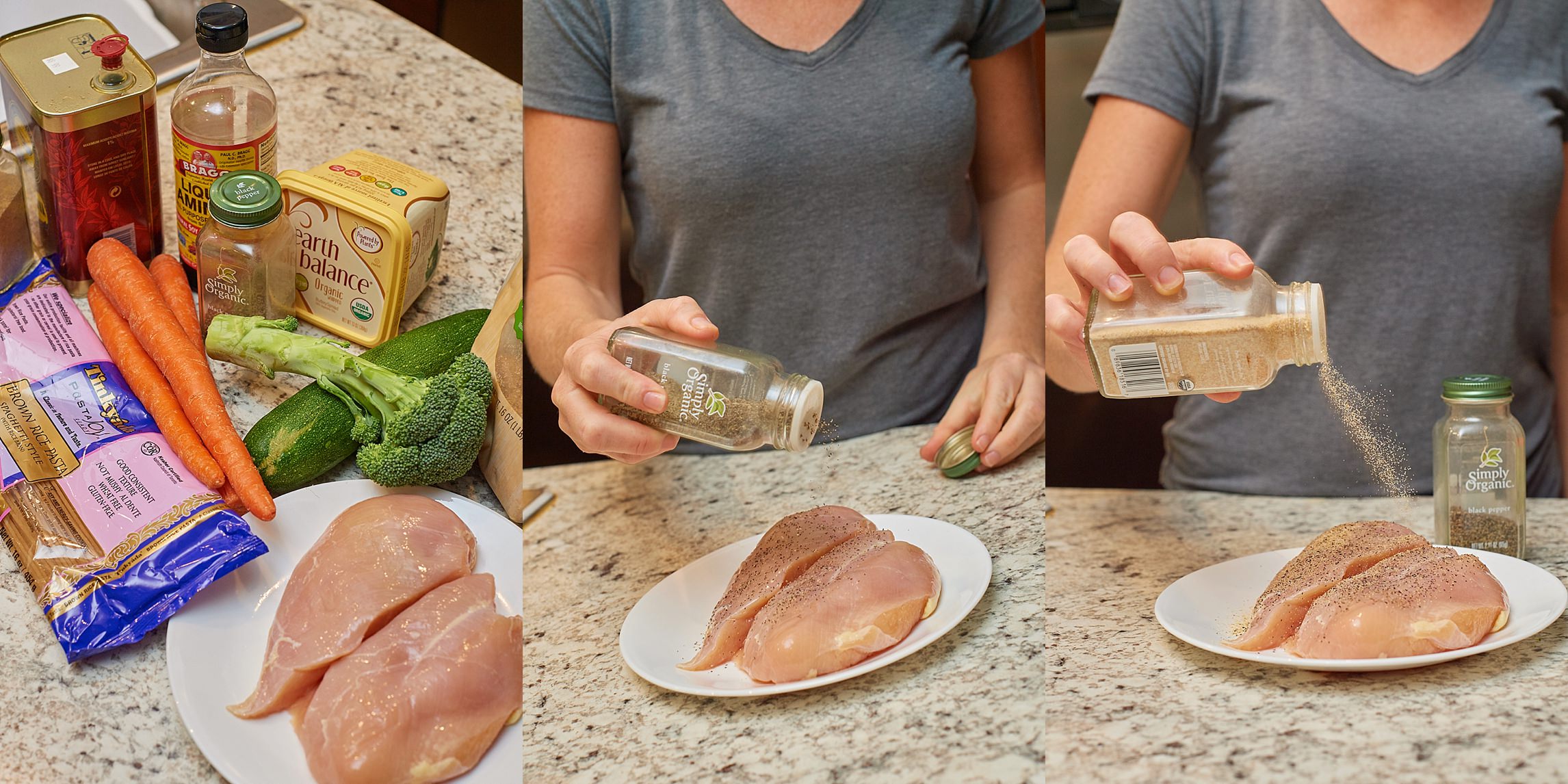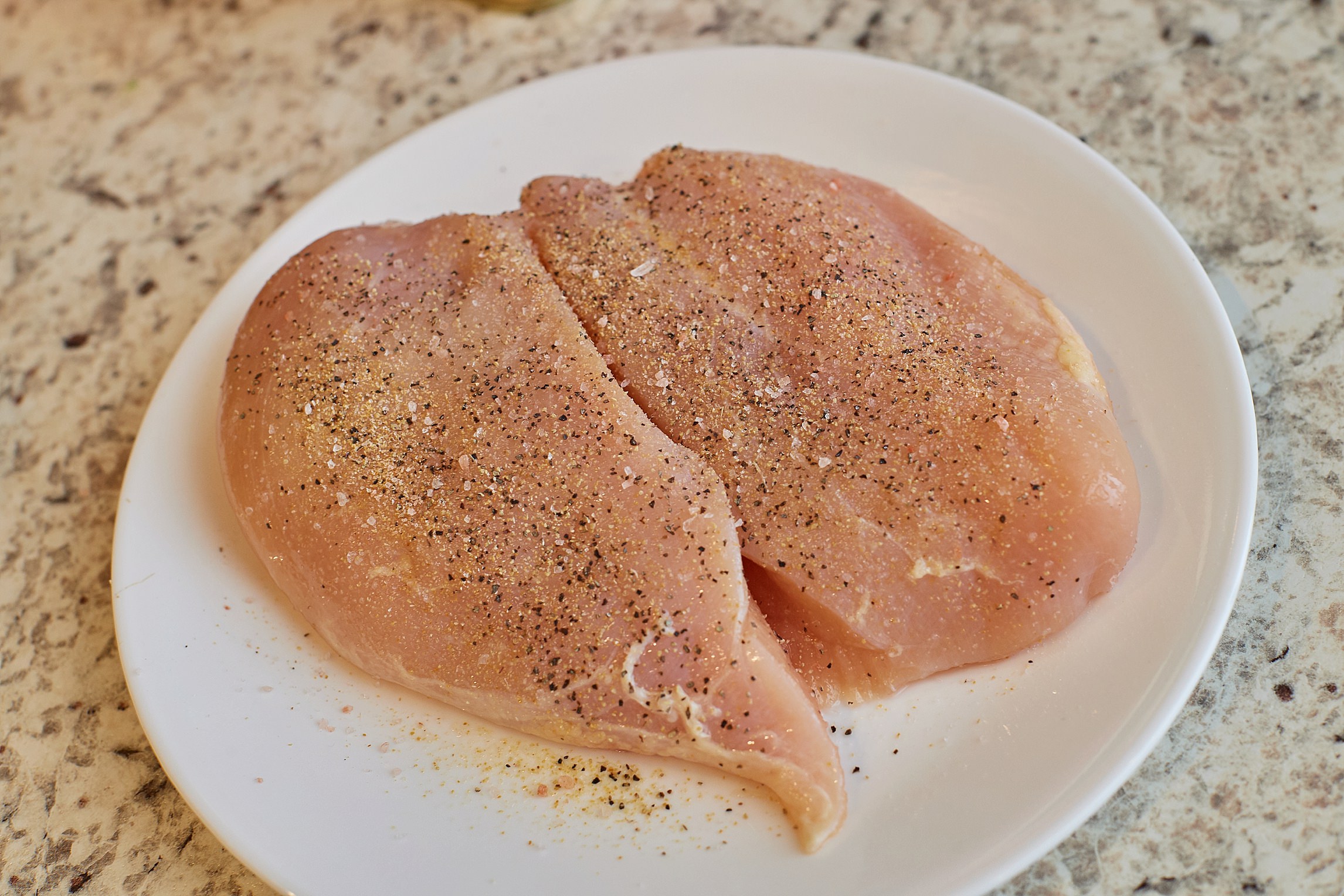 You can either grill the chicken or sauté the chicken. Here we chose to grill the chicken. If you decide to sauté the chicken, then I would cut it into little pieces and add some olive oil to the pan first. Season the chicken with salt, pepper and garlic powder.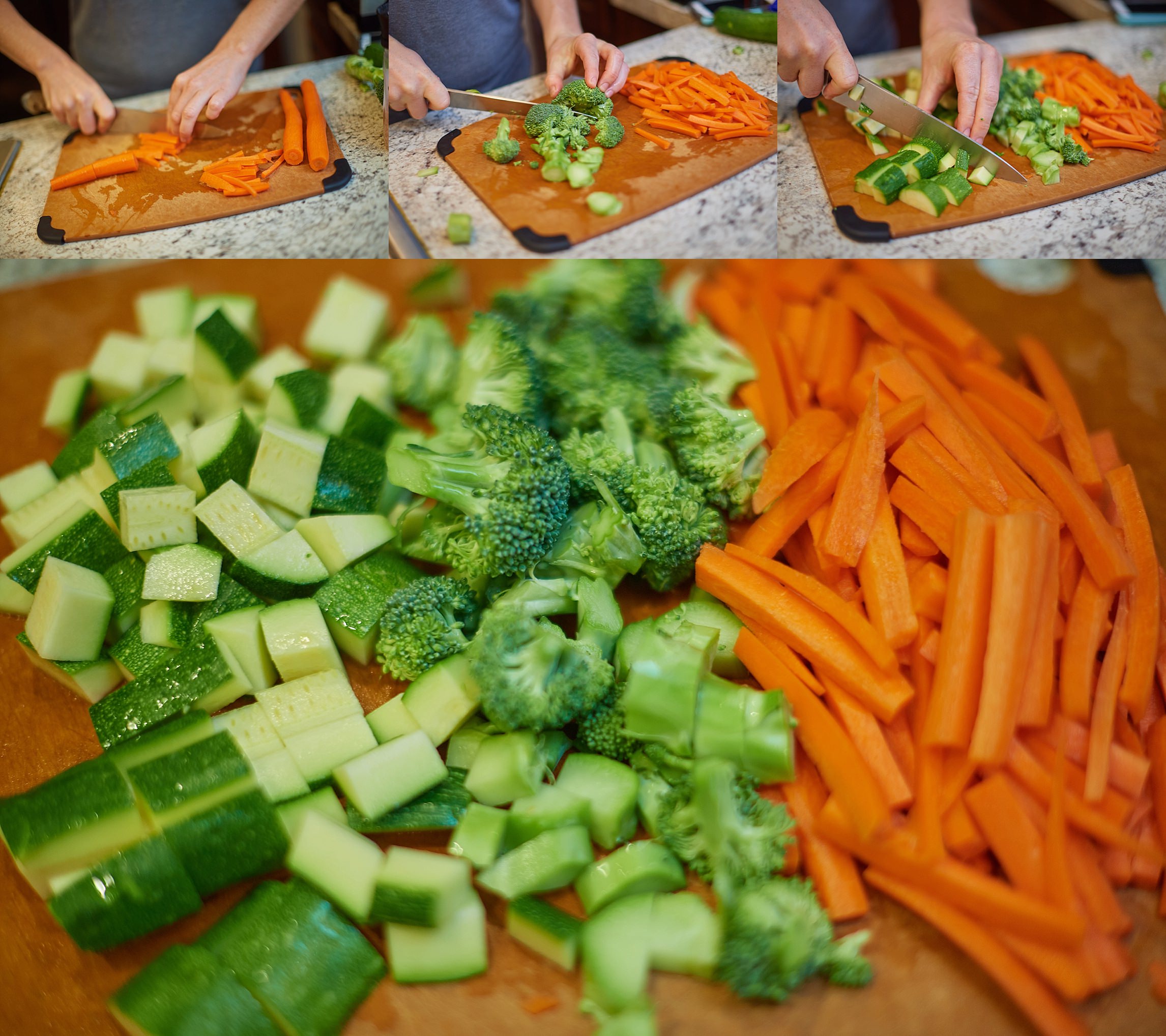 Cut all your vegetable into small pieces. I like to cut the carrots into small, thin sticks so they cook at the same speed as the rest of the vegetables. I also like to undercook them just a little bit so that they are not mushy. Once you put them in the pan add salt, pepper and garlic powder. You could also use real garlic instead.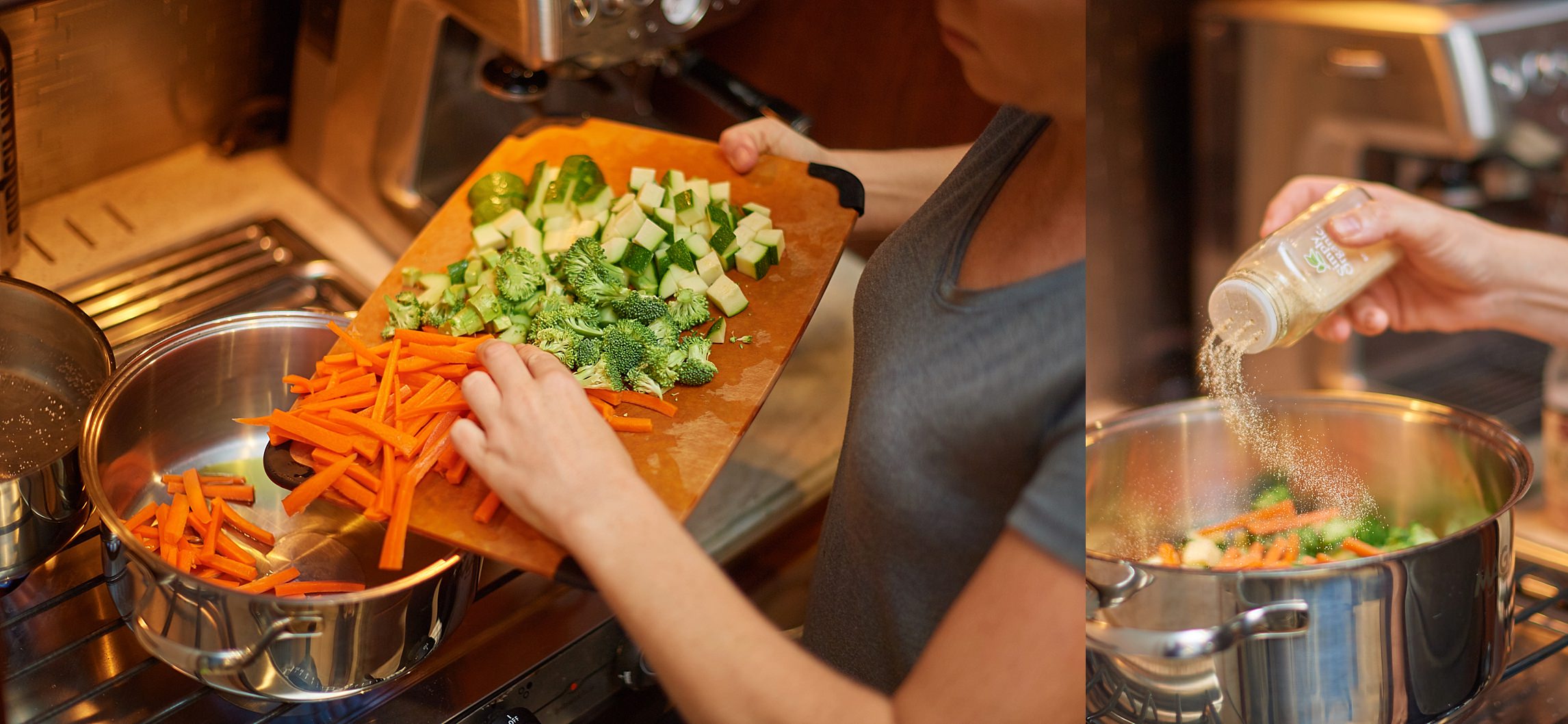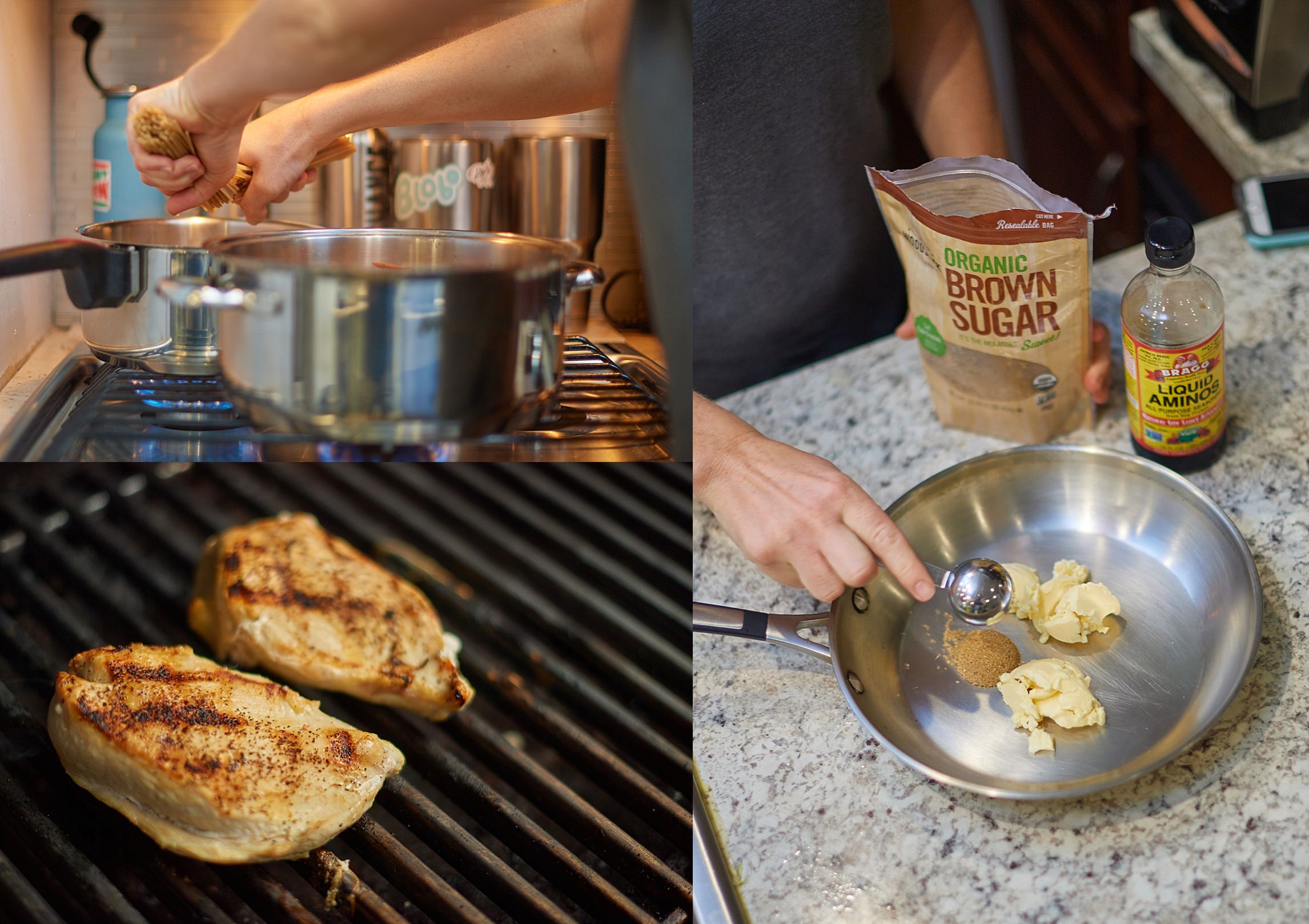 When you start the sauce add the dairy free butter and brown sugar first. Make sure you keep stirring so that you don't burn the sauce. Once the sugar is dissolved add the soy sauce and stir for another 30 sec then remove from heat and set aside.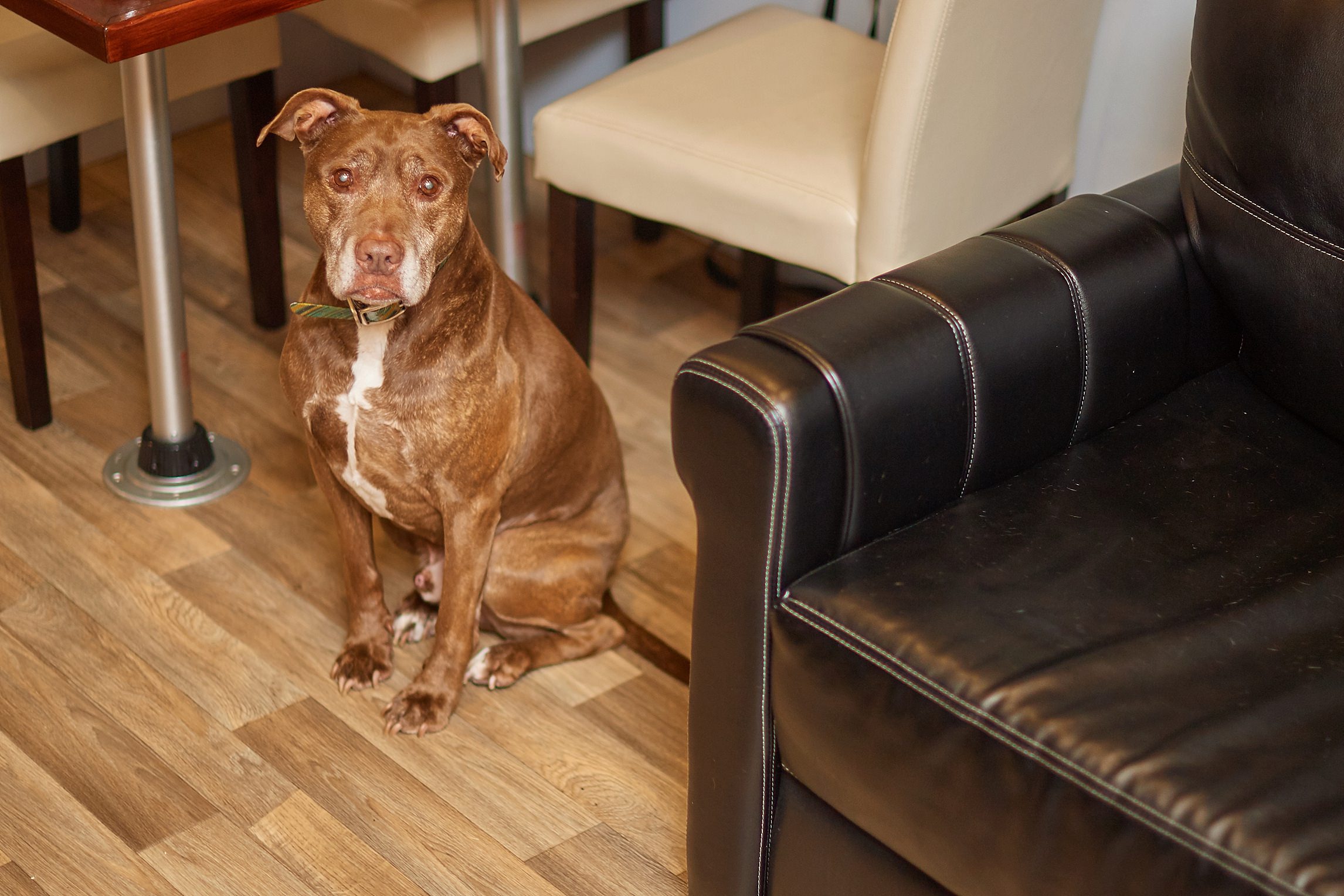 Cole is waiting patiently for his portion 🙂 Sorry Cole this dish is not for you.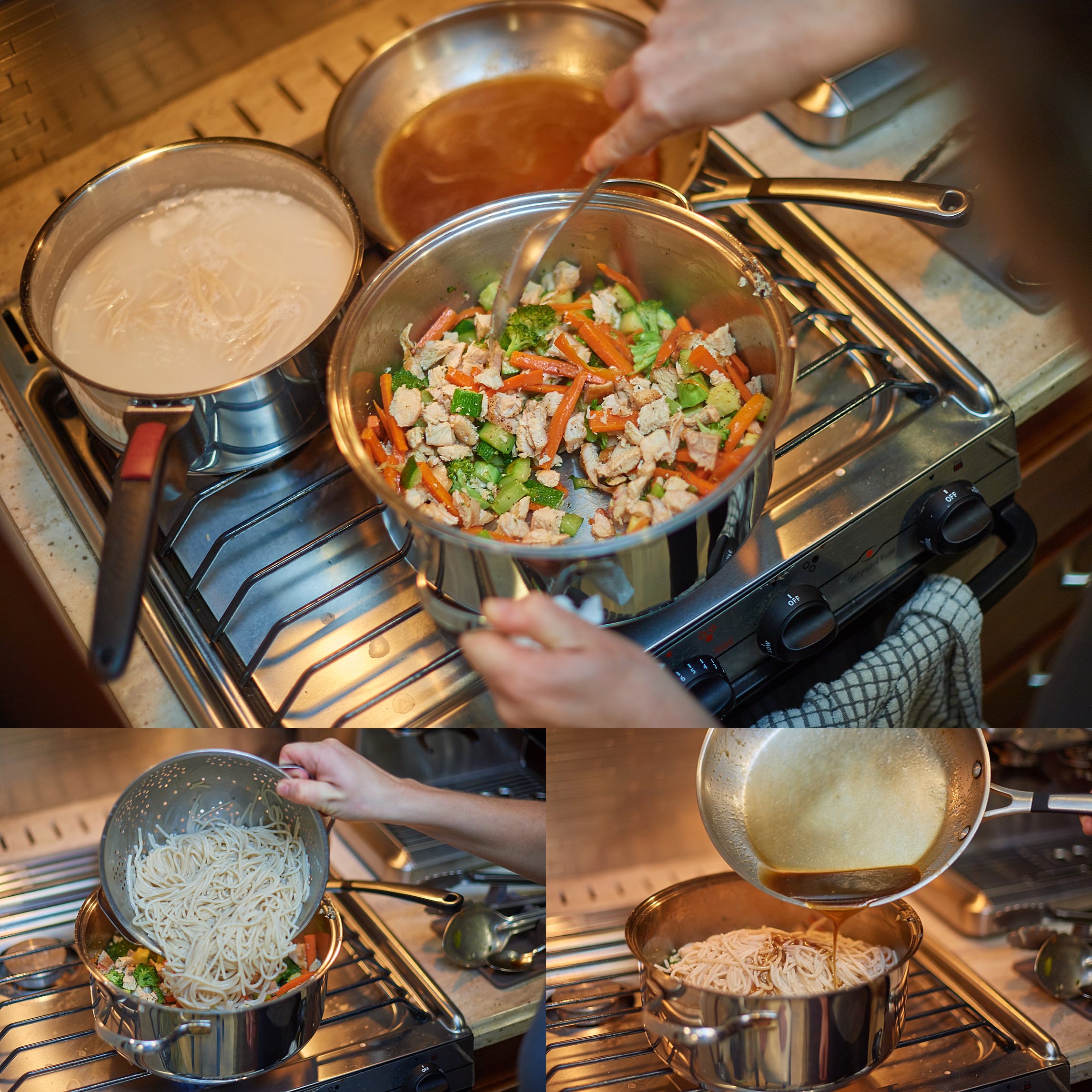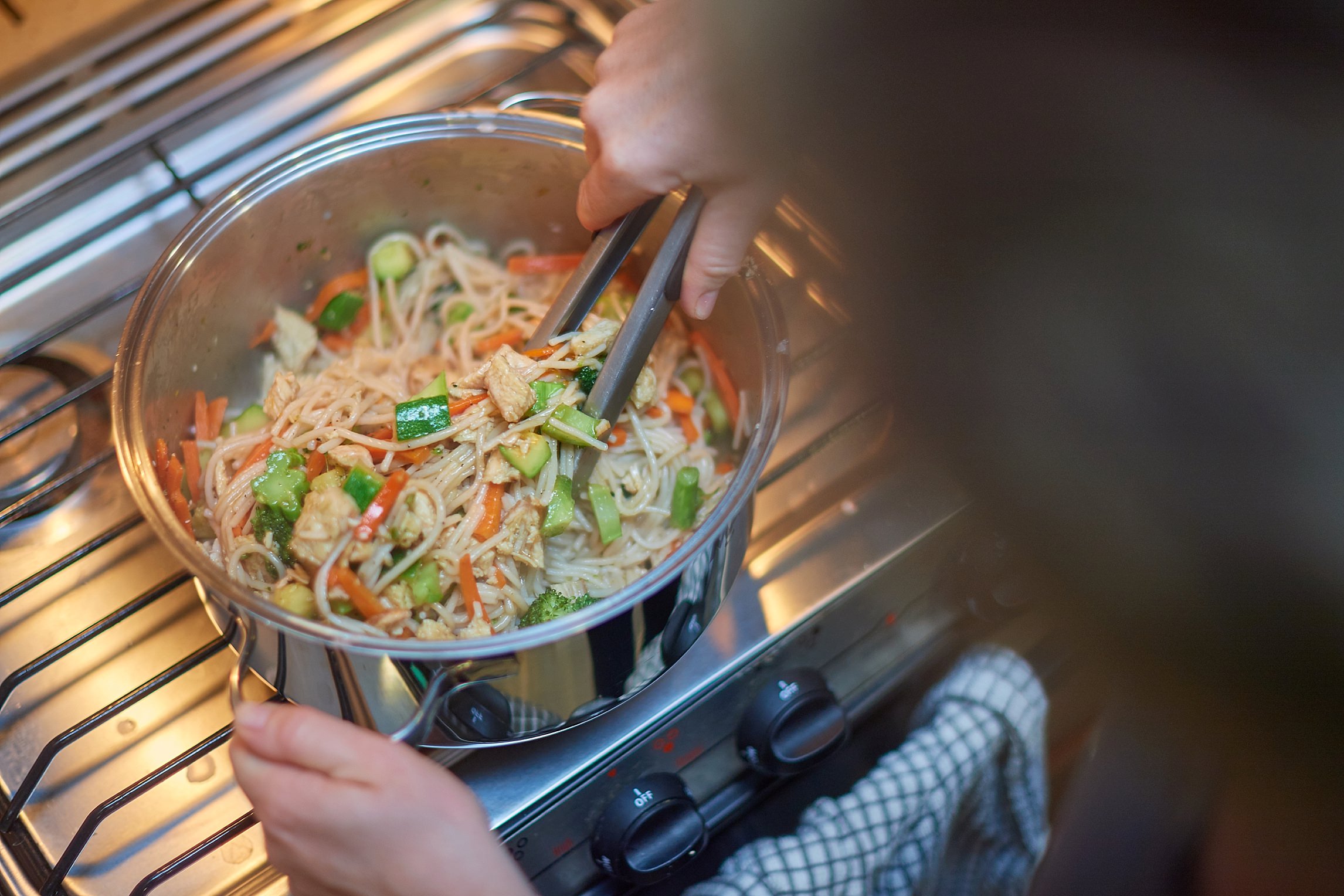 Add the chicken and the drained pasta to the vegetables. Then add the sauce. Stir it all together and serve.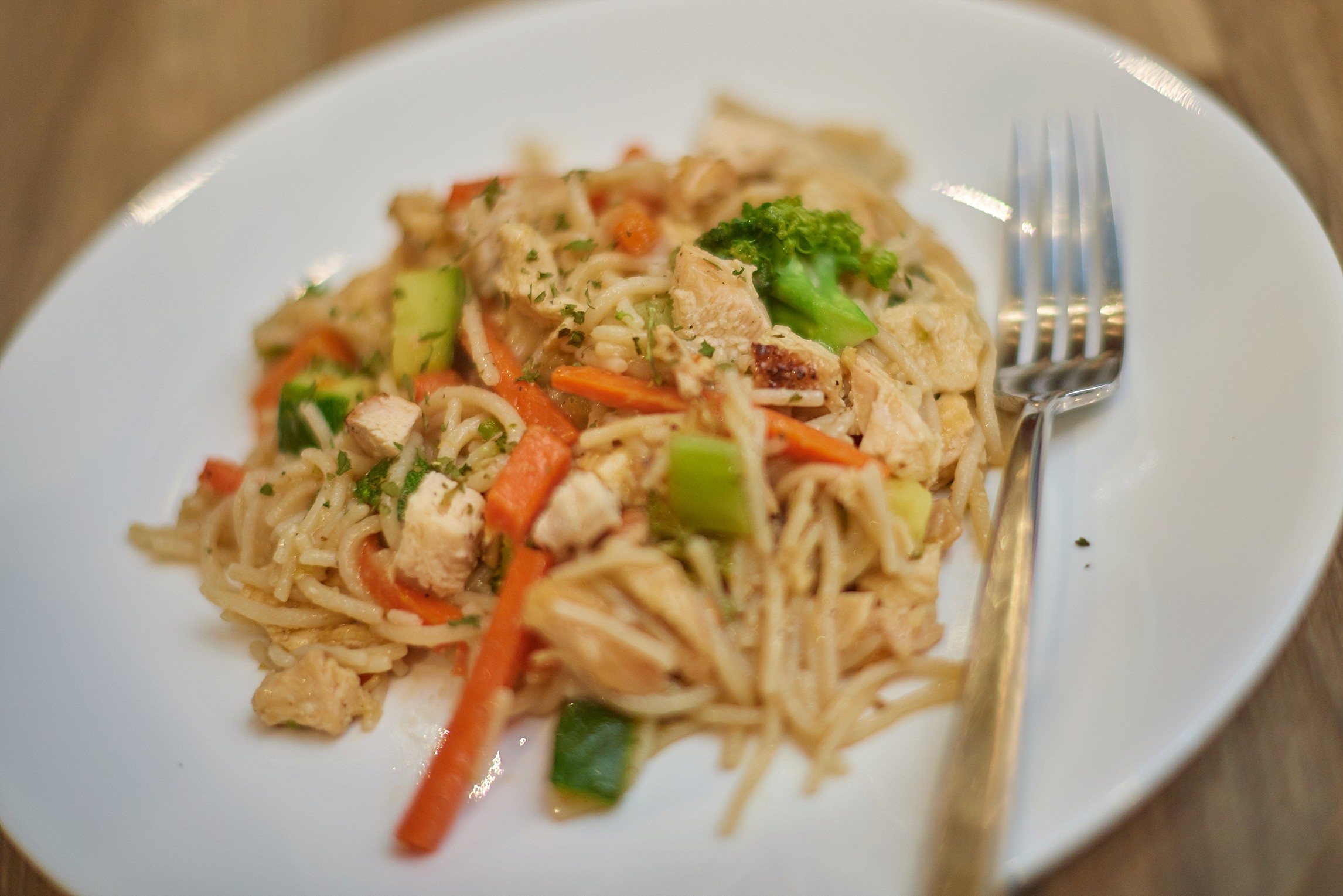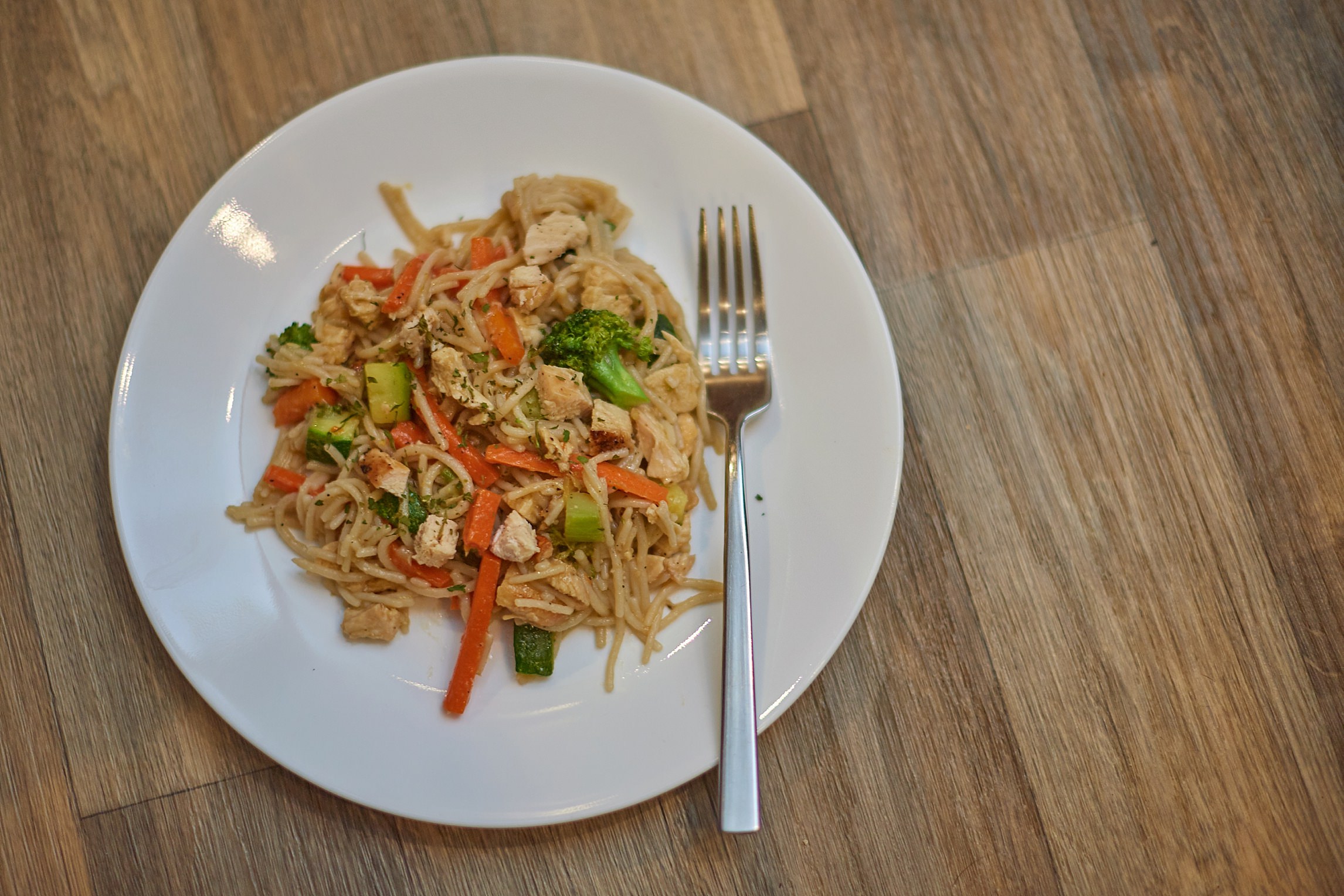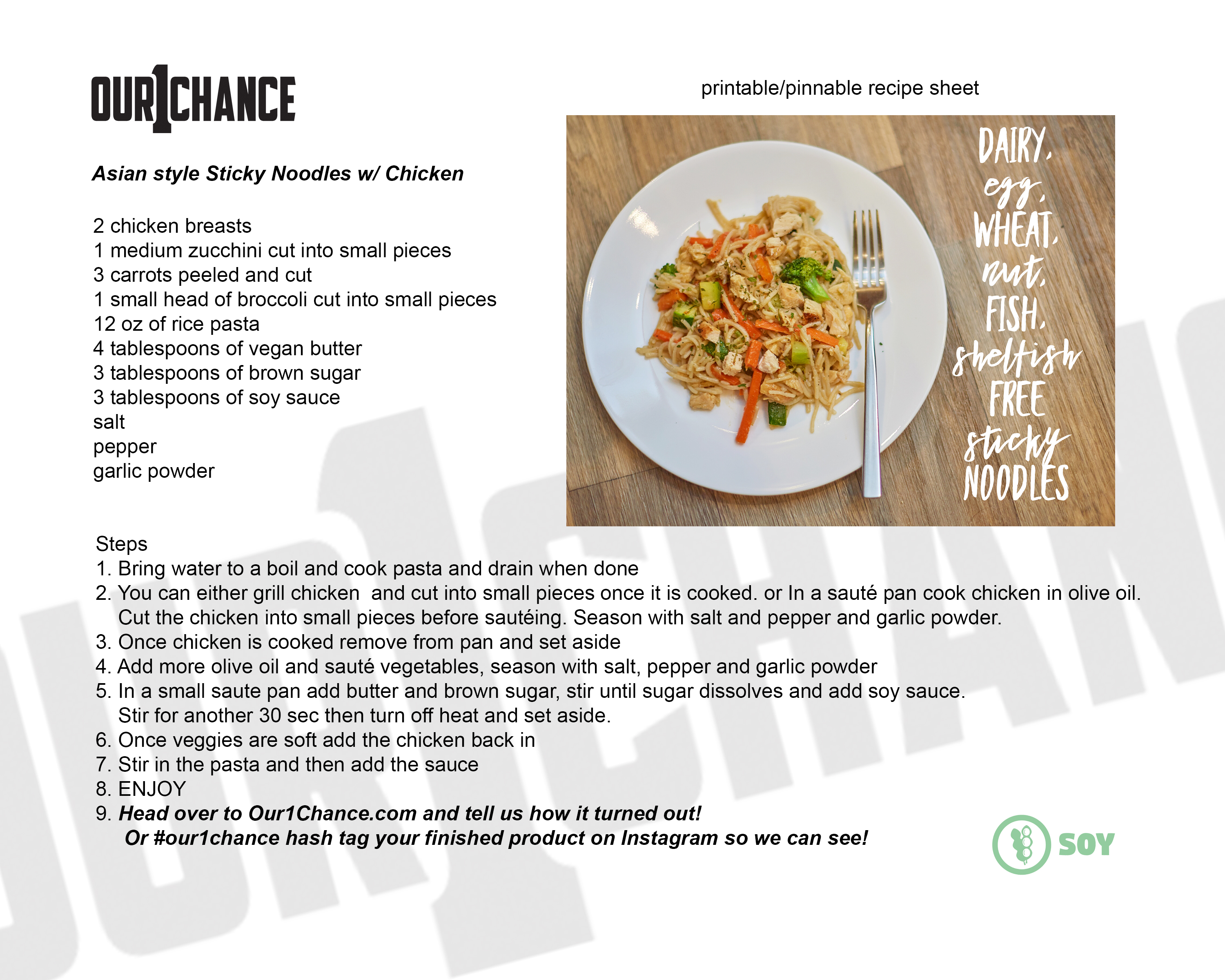 [avatar user="Jennifer Braga" size="thumbnail" /]