When we initially charted our course through Florida, Miami was not on our list of places to visit. Our primary reason for skipping Miami was their ridiculous breed ban legislation that would make Cole an outlaw. Secondly, we just weren't that into visiting the Everglades as a National Park destination. We did have some work to do in Miami however so we stayed for a few days nonetheless.
After exhausting a ton of day trip ideas that would have left Cole alone in the RV for far too long, we found a great solution to ride our bikes through Shark Valley loop in Everglades National Park. The loop seemed a little long for the girls to ride, but knowing that it was going to be paved and completely flat, helped convince ourselves.
After school was completed and work was done, we headed out to check out the gators.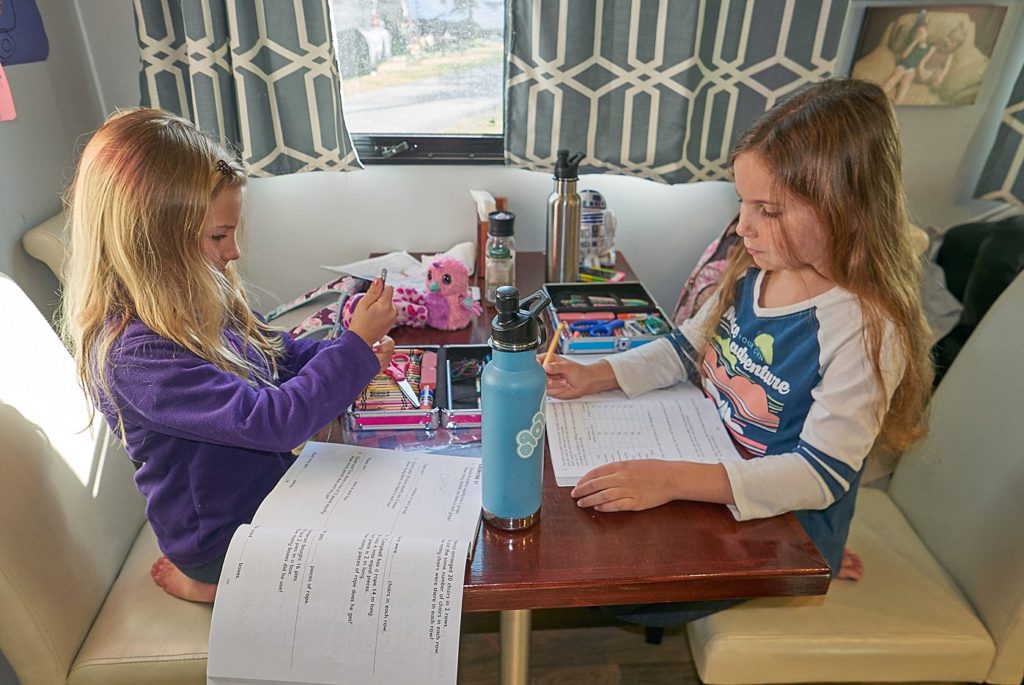 "In Everglades, we went on a 16-mile bike ride", Shayla said.
"InEvergladess national park, there is a fifteen-mile bike trail. And of course, we went on it," said Leighton.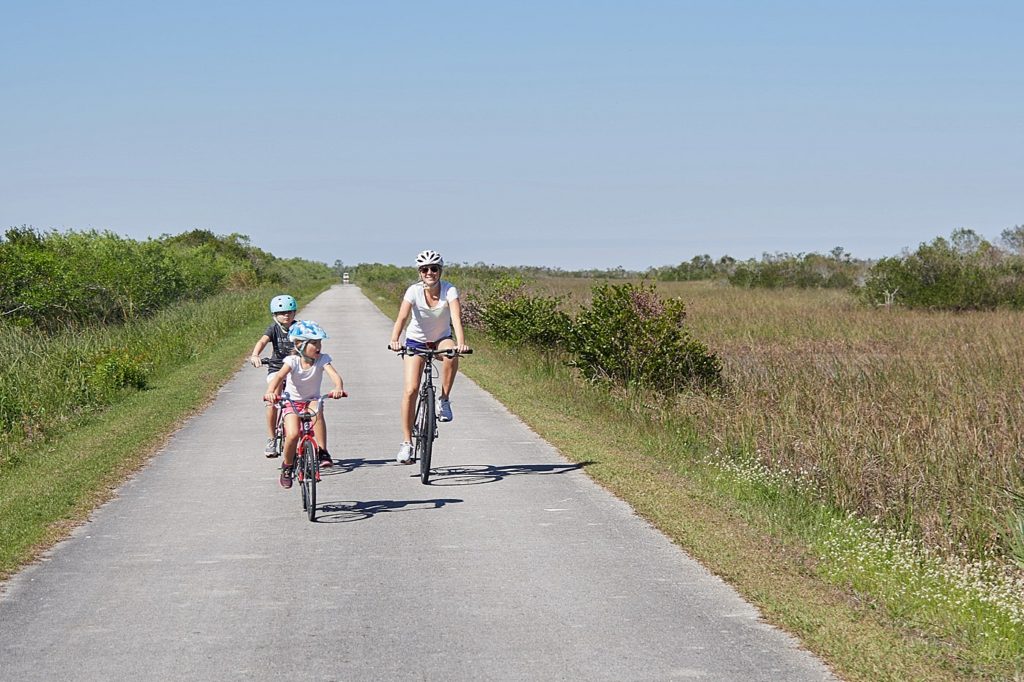 To be honest Jen was optimistic but terrified that we might see a couple gators. As the ride started we were all in great spirits. (full disclosure: I KNEW there would be a ton of photo opportunities of gators on the trail so I pushed for the ride. )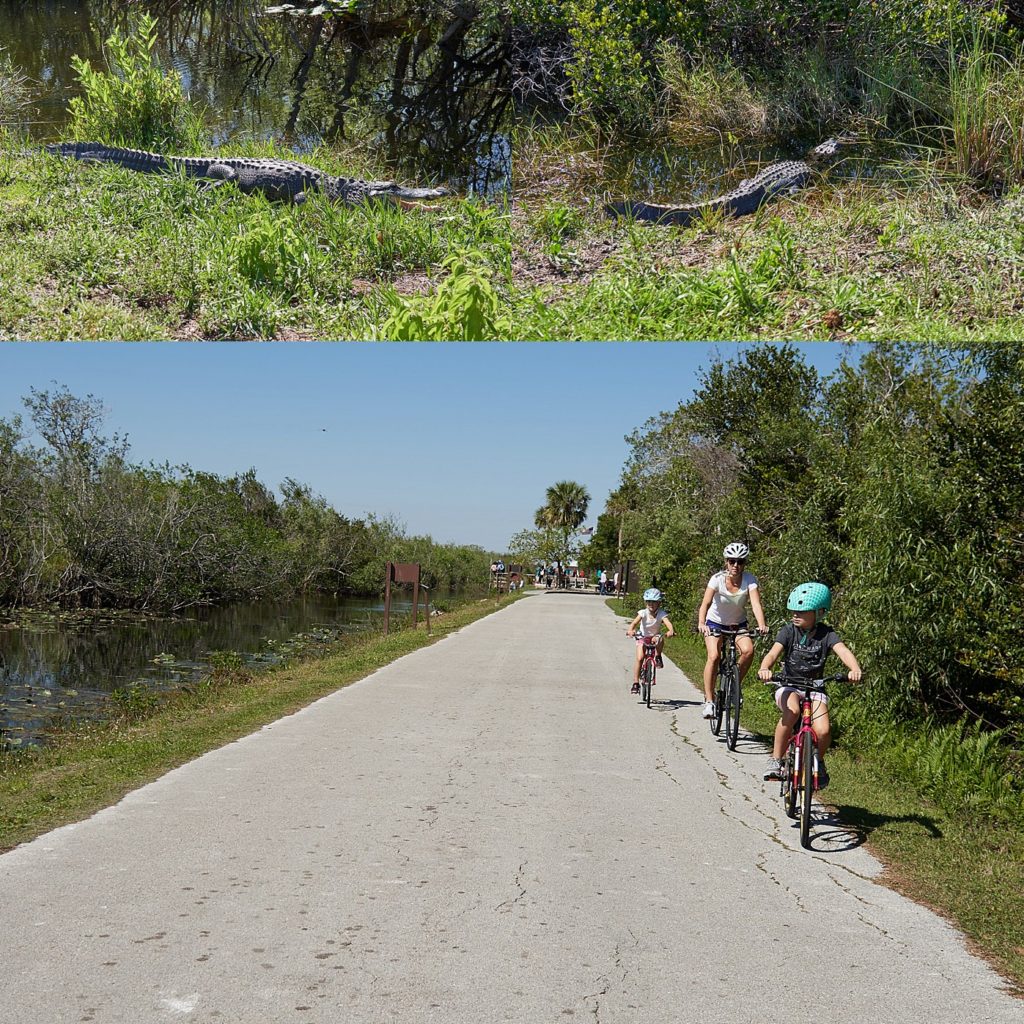 No more than 3 minutes into the ride we started spotting gators lined up on the side of the road catching some rays. I think Leighton's and Jen's face above says everything.
Leighton writes, "On the trail, we saw about forty alligators, and mommy was super scared. I was a little scared too, of course, but they were sleeping and I thought they were cool. We saw some alligators in the middle of the bike trail."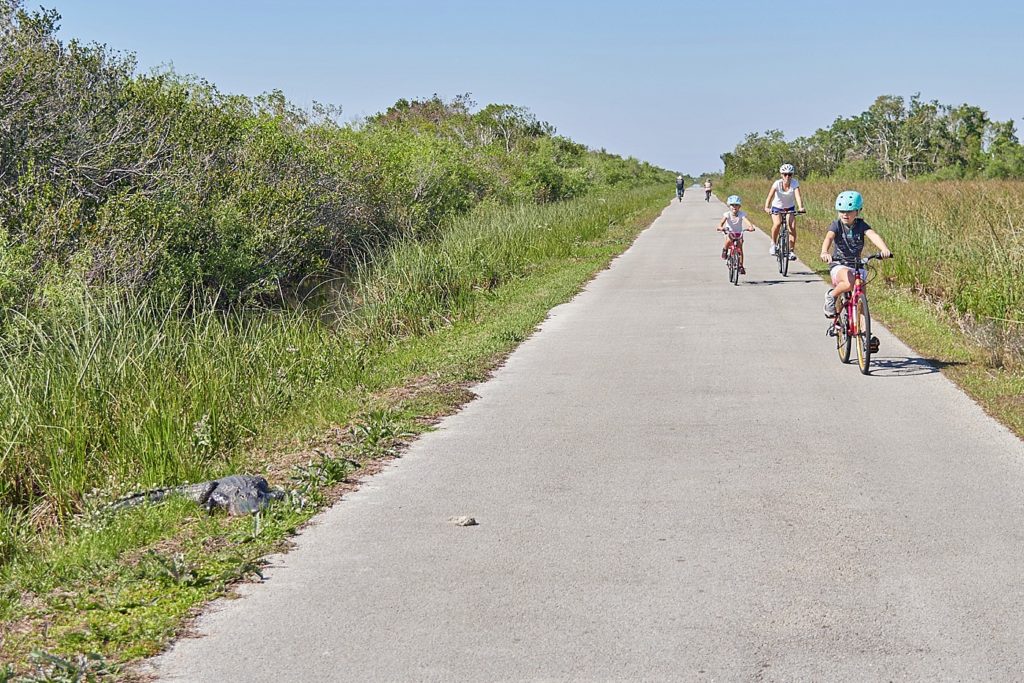 One bird's behavior had us all intrigued so we had to ask a Park Ranger what the deal was. The double-crested Cormorant keeps its wings spread to help dry his feathers since they lack the necessary oils that many water birds have to keep their down dry.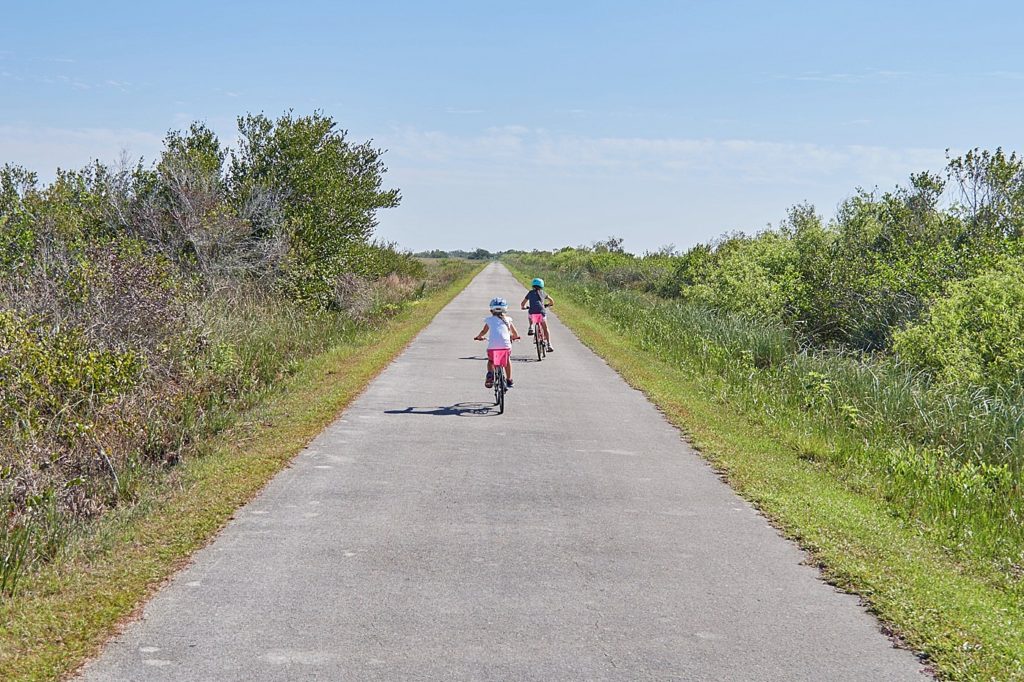 As excited the girls were to ride off into the distance alone, the gators on the sides of the roads kept us all close. The landscape of the park was pretty much all march and flat land. I know, no surprise; it is the Everglades after all.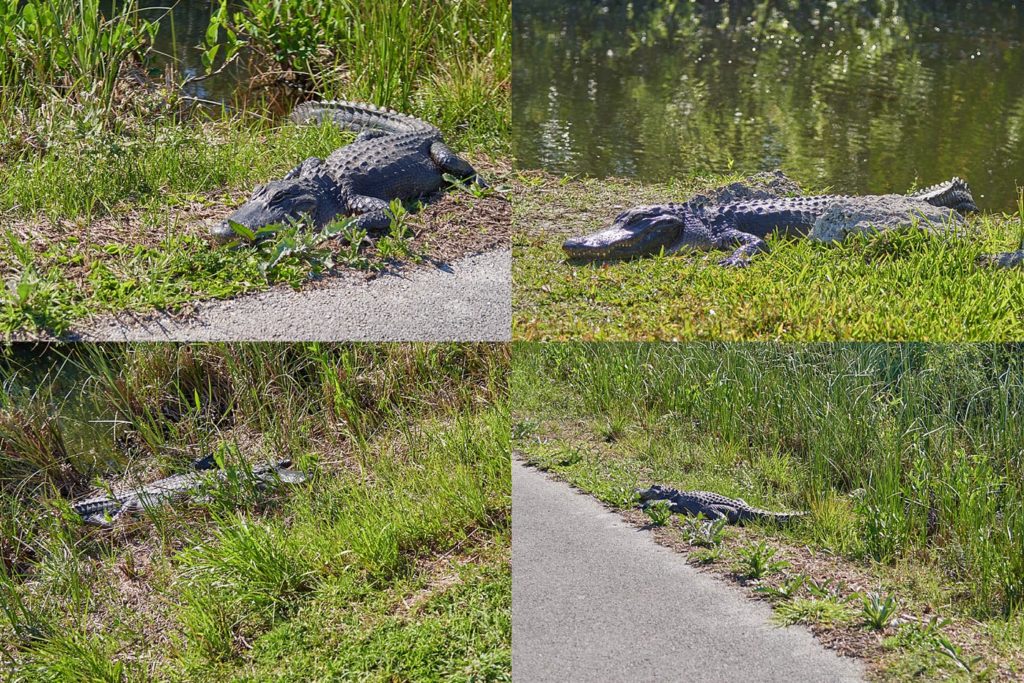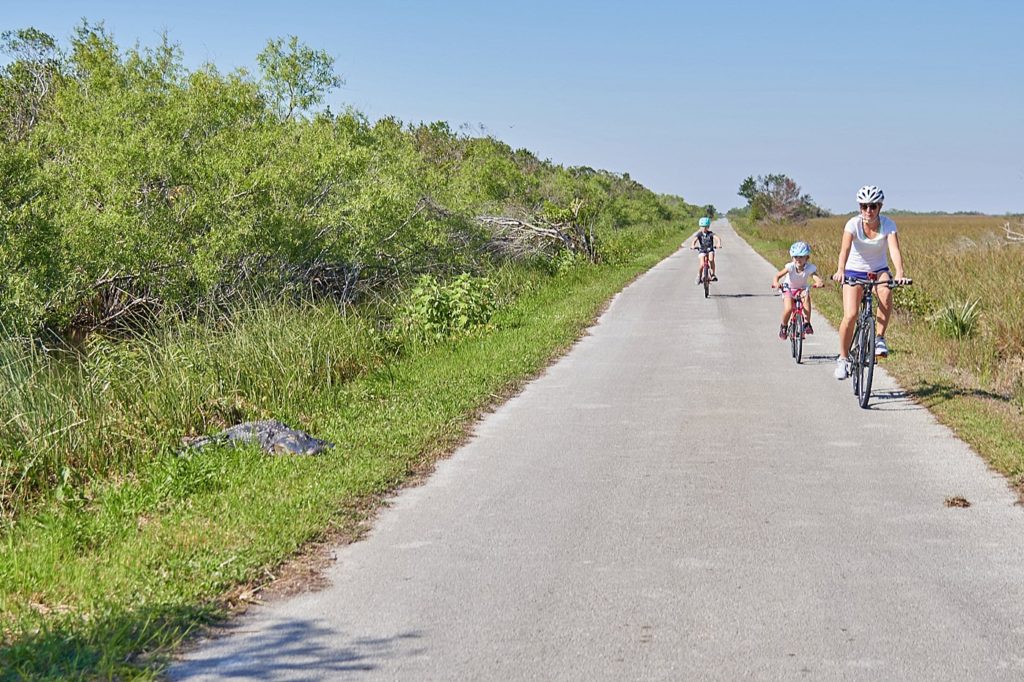 "We also went on the observation tower. We could almost see the parking lot," Shayla said.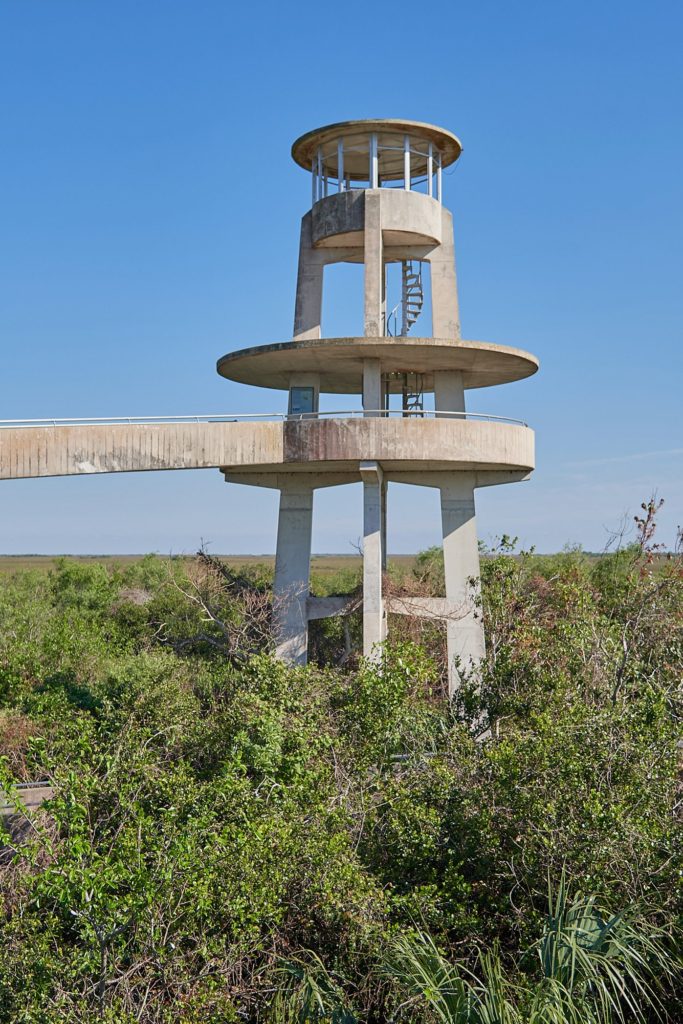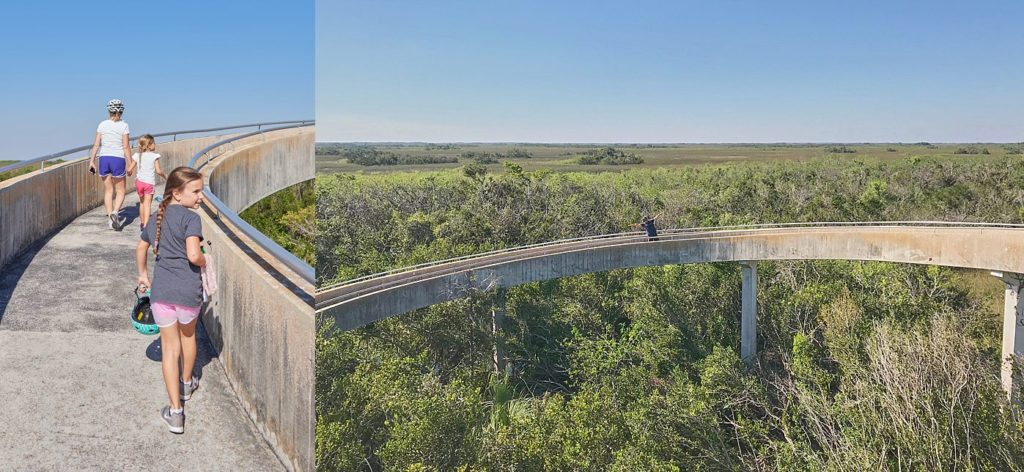 "My favorite part was how scared mommy was," Shayla said.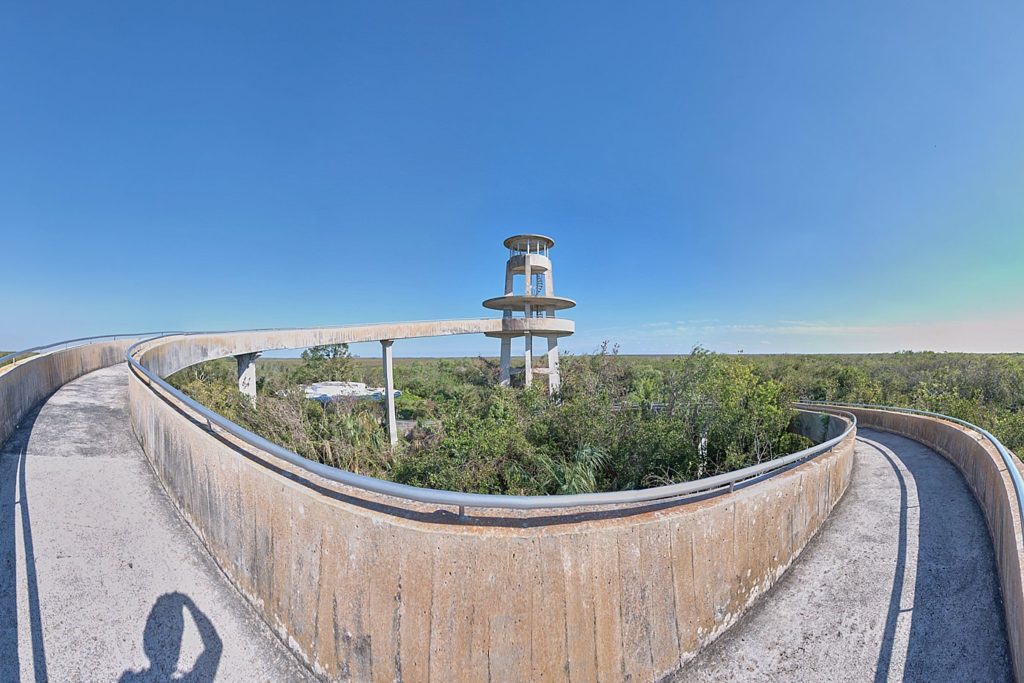 Leighton says, "The half-point of the bike trail was a tall observation tower. From that high, we could see most of the bike trail. On the way to the tower it was straight but on the way back it was twisty."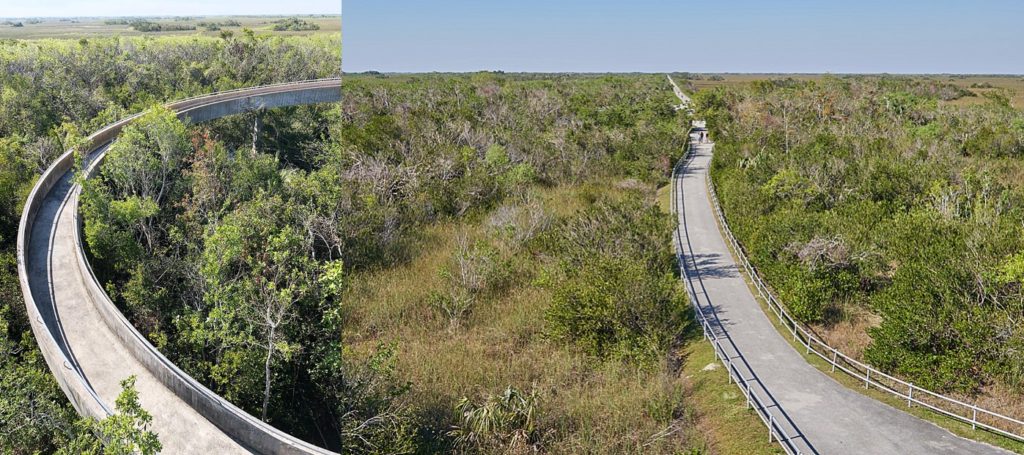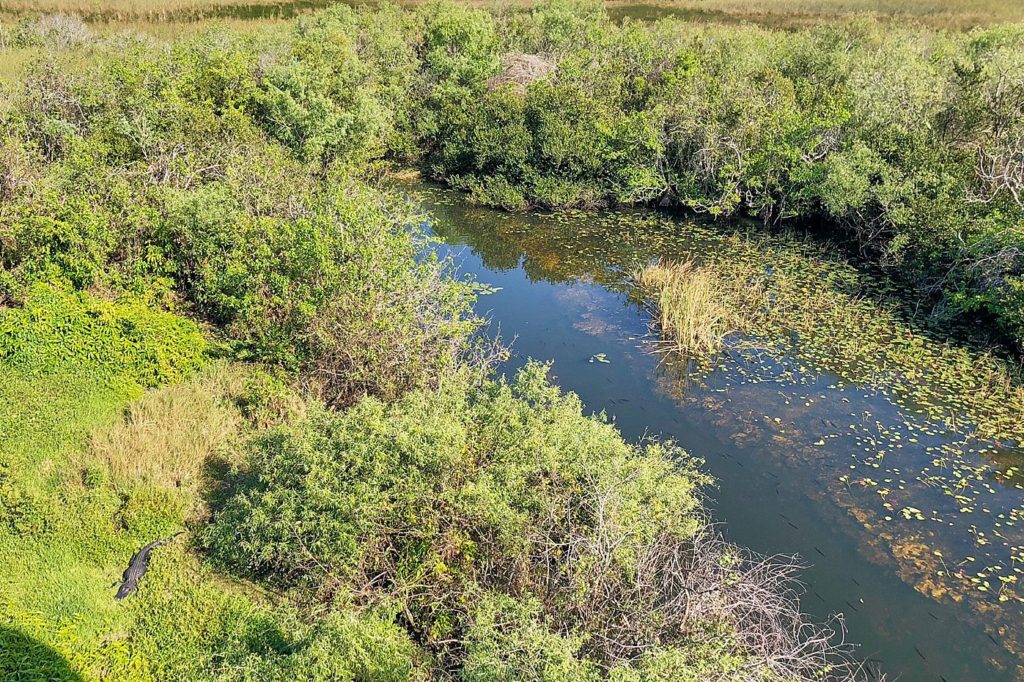 I know a few of you might ask how I am carrying my camera setup. I am carrying a Nikon D500 with the Nikkor 24-120mm Lens. It is attached to my Osprey backpack with a Spider Holster Spiderlight Backpacker Kit. It attaches so nicely to my strap and gives me one-handed access to the camera so I can quickly get any shot I want without stopping. Here are the items I'm wearing. [amazon_link asins='B06XHLHFJG,B01A7Q0J3Y,B003ZSHNEK,B00PZKTKYW' template='ProductCarousel' store='our1chance-20′ marketplace='US' link_id='89dfbf32-2b9a-11e8-b156-7120b4da0286′]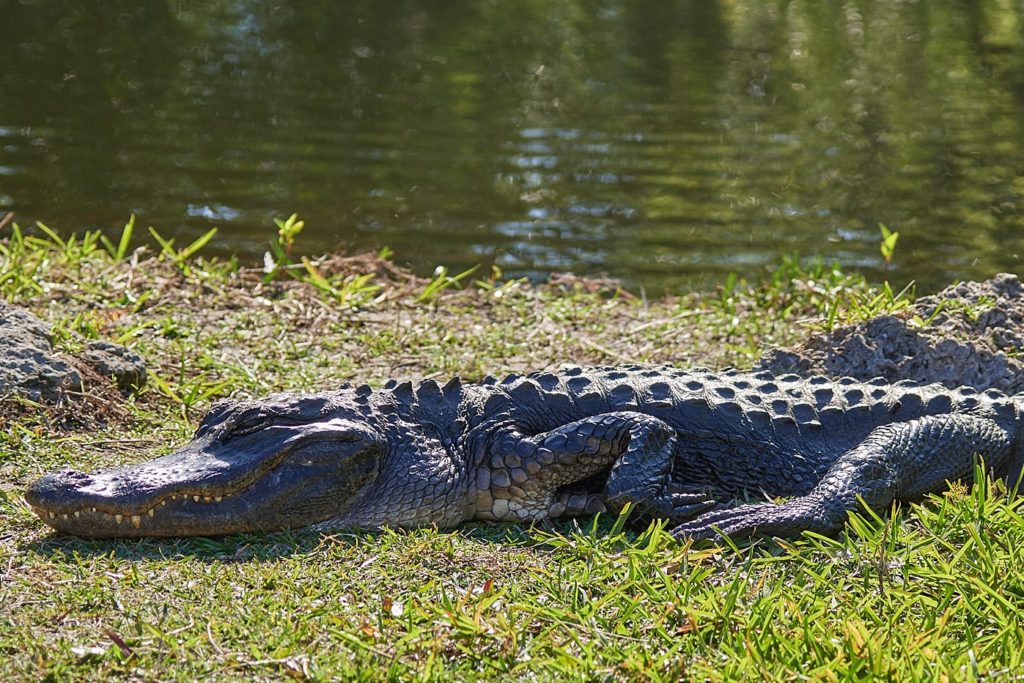 Not going to lie… sometimes the gators would wake up and open their eyes as you ride by, and that was a little unsettling. Only one of the dozens of sleeping gators actually moved when we rode by.

"The families legs were so sore the next morning," Shayla said.



"We saw 62 alligators. Two were babies. The babies were 5 inches," Shayla said.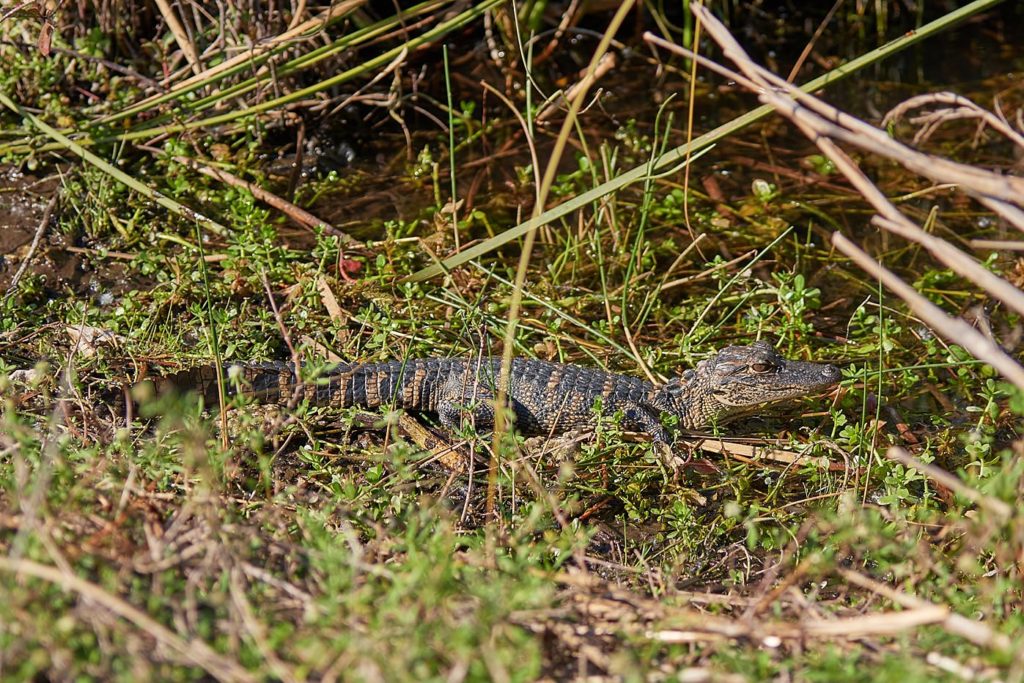 Leighton writes, "On the way back we saw a baby alligator. It was so cute but after we saw a few more. And we knew the mama would be nearby."
"I have never been on a bike ride like that before," Shayla said.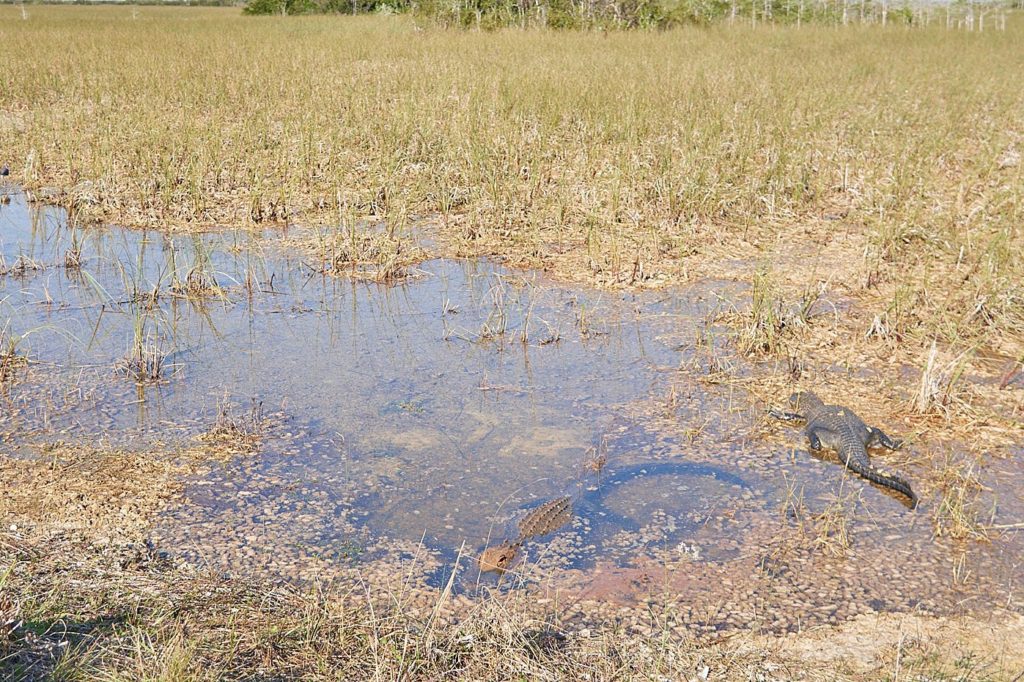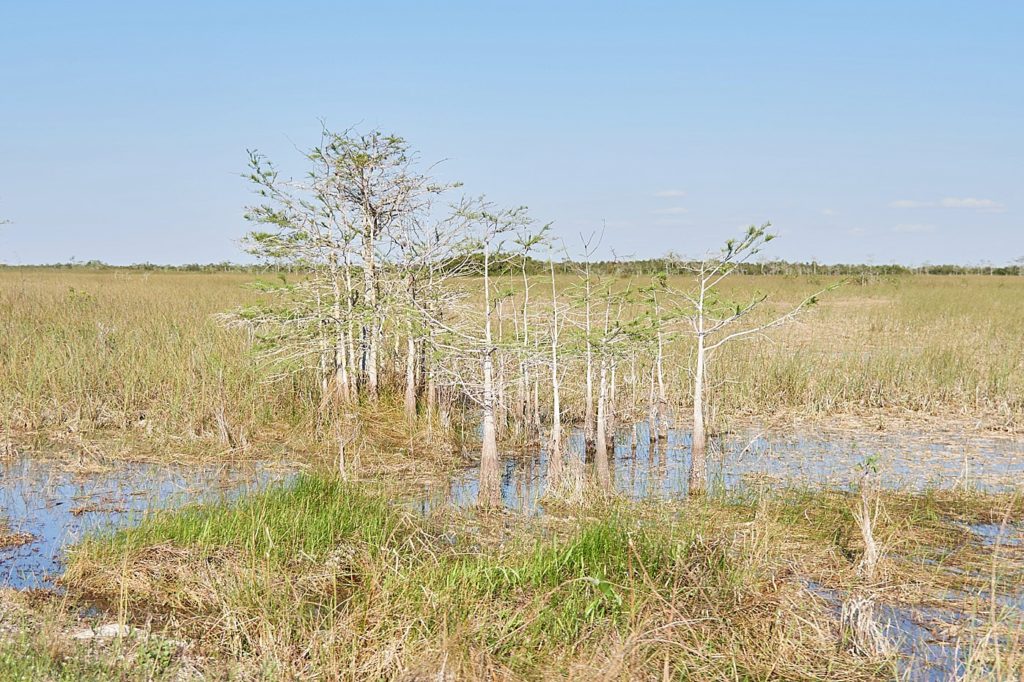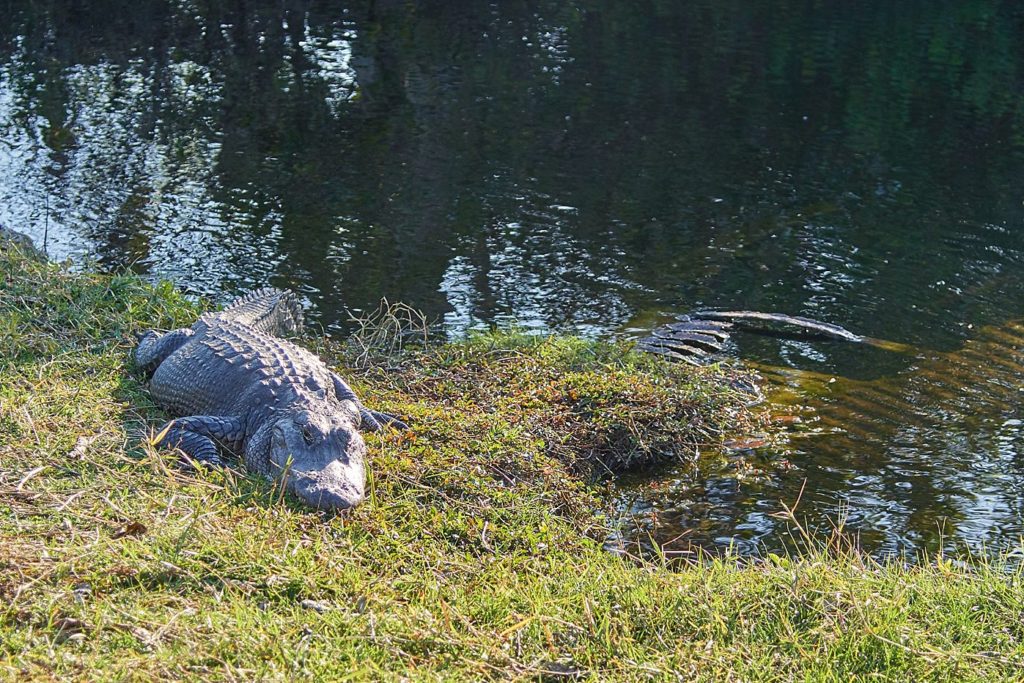 "We had two hours to ride and get our badge before 5:00 we almost missed the visitor center but we made it!" Exclaimed Shayla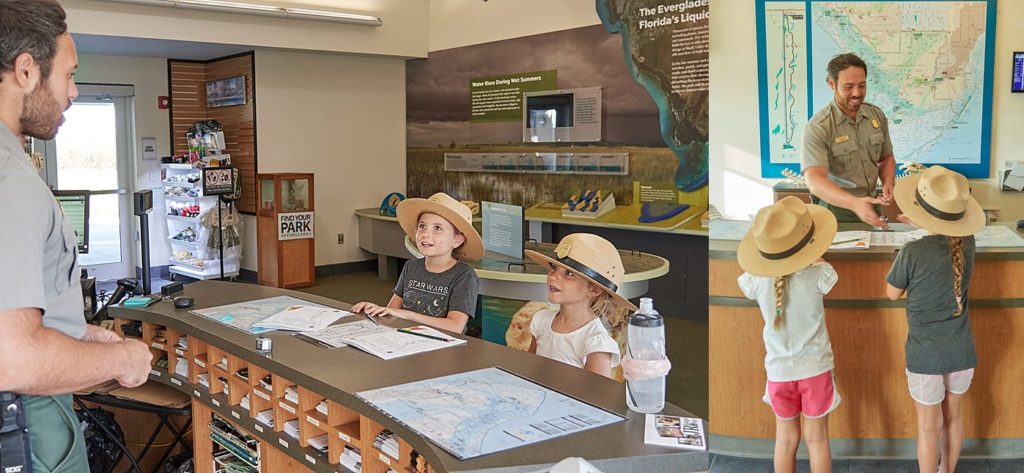 Leighton explains, "The bike ride took up most of the day, so when it ended, we had to rush through our junior ranger booklet to get a badge. The visitor center closed at five and it was four-twenty

That is why it was a problem for us."